ZAMBIA lost an average of 276,021 hectares of forest per year between 2000 and 2014, says President Edgar Lungu.
Speaking when he flagged off the national tree planting exercise for the 2016/17 season under the theme: 'advancing the role of natural regeneration in forest restoration' at Kabulonga Girls Secondary School in Lusaka today, January 20th 2017, President Lungu noted that deforestation had taken its toll on the country.
"Let me now address the issue of deforestation which has taken its toll on our country. This is of great concern to my government. I am aware that between 2000 and 2014, Zambia lost an average, 276,021 hectares of forests per year. Direct drivers of deforestation include agricultural expansion, uncontrolled wood fuel and timber extraction, bush fires, mining and infrastructure development. I am also aware that there is a lot of illegal harvesting of timber across the country resulting in reduced forest cover. The destruction of forests, coupled with excessive settlement and other human activities, lead to uncontrolled severe soil erosion, high sediment load and subsequent siltation of hydroelectric dams and decreased river flow," President Lungu said.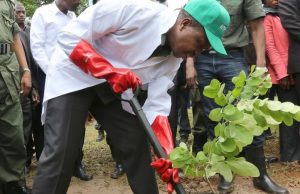 "If we harness this resource properly, it is capable of creating wealth and jobs for our citizens particularly the youth. We will therefore, as a responsible government, pursue this path of development through both internal and external avenues. My government is therefore committed to ensuring that our forests are well conserved for them to become a viable resource for our country's socio-economic development."
He directed the lands ministry to ensure that people adhered to the forests act.
"For us to promote forest conservation and reduce the pressure on forests as a source of wood energy, we must encourage the use of alternative domestic energy sources and sustainable charcoal production techniques. I wish to direct the Ministry of Lands and Natural Resources to ensure that all timber extraction and other forestry-related activities are conducted within the provisions of the forests act of 2015. Perpetrators of illegal forestry-related activities must be brought to book," President Lungu stated.
He said government would ensure that forests were well conserved because they were viable resources for the country's socio-economic development.
"My government will continue to promote mining and infrastructure development. However, even as we develop these sectors, we shall take into account the impact that such developments have on the forests and the environment in general. My government will ensure that comprehensive environmental risk strategies are, as much as possible, incorporated in mining and other infrastructure projects to balance development and conservation. Let me underscore the need for to take keen interest in environmental protection by planting trees at least one tree every year," said President Lungu.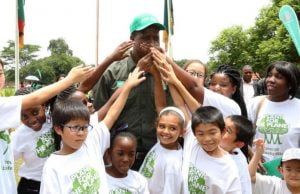 "This way we will be making tremendous contribution to the country and the world in demonstrating our global concern and commitment to sustainable management of forests. We will also be contributing to the reduction of global greenhouse gas emissions. Zambia is party to the Paris agreement that I signed on behalf of the people of Zambia on 20th September, 2016. This agreement is the first-ever universal, legally binding global climate deal. The agreement outlines global action plans to put the world on track by avoiding dangerous climate change through limiting global warming to 2 degrees celsius. My government will endeavour to domesticate the agreement so that Zambia meets its obligations."