In this exclusive audio interview, Minister of Religious Affairs Godfridah Sumaili explains the role of her ministry.
Rev Sumaili gives a brief account of her life and then explains that the role of her ministry cuts across all other ministries.
She says her role will be to ensure that Church leaders give guidance to President Edgar Lungu and his ministers in a sober manner; instead of calling them drunkards publicly, they must visit them privately and pray for them.
Rev Sumaili also says apart from churches undergoing serious scrutiny, even church mother bodies will be scrutinized to see if they are fit to exist.
Q: Honourable minister first, we want to find out more about you before we get to the ministry, who is Godfridah? What do people need to know about you, where have you come from? How lucky did you have to be to become the first minister of National Guidance and Religious Affairs?
Ans: First and foremost I want to thank you for this opportunity, for you to come so that we can have a conversation. It's very important that the correct information gets out to people and that's why we salute you the people that are sharing information, disseminating and giving knowledge to the people. My name is Reverend Godfridah Nsenduluka Sumaili. I am a banker by profession, I started with banking I worked for City Bank as treasurer and then I went to Standard Chartered bank where I set up the department of treasury. There was no treasury then but I set it up by the grace of God then I moved on to a very senior position in the bank and then in the year 2002, I felt that I needed to go into full time ministry. I needed to leave banking and go on the streets and work with the children on the streets.
Q: Were you a reverend at the time you took up charity work?
Ans: No I was not a reverend, I was a professional. But the passion for God called me to serve him full time. It was difficult to leave a high office in corporate banking and then you go on the streets, but I obeyed the call of God and that is how I left and I set up a ministry called Jesus-Cares Ministries. It is an inter-domination [organisation] and has members from various churches. The thing that holds members together is that you need to have a passion for evangelism to preach the work for His gospel and you also have to have a heart of compassion for the vulnerable, for the orphans, the widows and poor people. So it's a developmental organisation that has grown from zero to now serving the national of Zambia. It is one of those well respected faith-based non-governmental organisations that are working with a number of donor agencies including US Aid, UNICEF, ILO…so it's quite broad, very well run, well governed and its respected.
Q: Are still you overseeing the operation of Jesus Cares Ministries?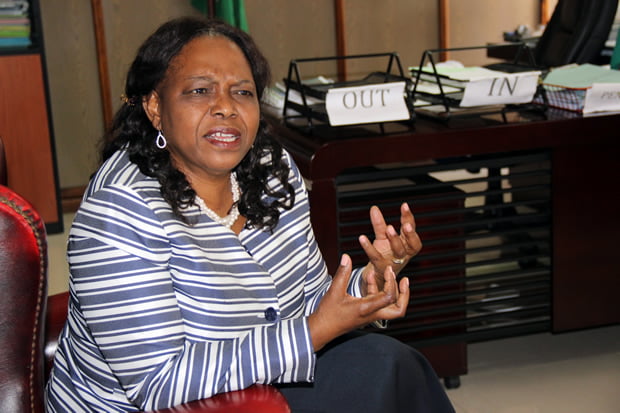 Ans: No, I am the founder and the organisation has grown. There are directors there, its fully fledged, employing over 45 people full time. So that is my background but while I was still serving in the communities' and reaching out to the orphans, the late President Levy Mwanawasa appointed me as Human Rights commissioner that's where I served for six years and after that, the late President Michael Sate appointed me to be commissioner of Anti- Corruption Commission, so that's where I am coming from. So this is my background, people may not know me because I have been working in the communities; I have been working among the people.
Q: You look like somebody who has been interacting with government institutions for quite sometime through your work as a banker and at Anti Corruption Commission as a commissioner, how has that landed you in this ministry other than ministry of, maybe Justice Ministry or finance… some positions somewhere there?
Ans: I think the truth is that I have been serving people; that is what is critical because even in the organisations I have served Human Rights Commission that is independent from government even Anti Corruption Commission is independent from government. I have been serving especially through Jesus Cares Ministries; working with the people on the ground and of course working with churches, so I am very much well known in the Body of Christ fraternity so that's where I am coming from.
Q: At which point did you become a reverend?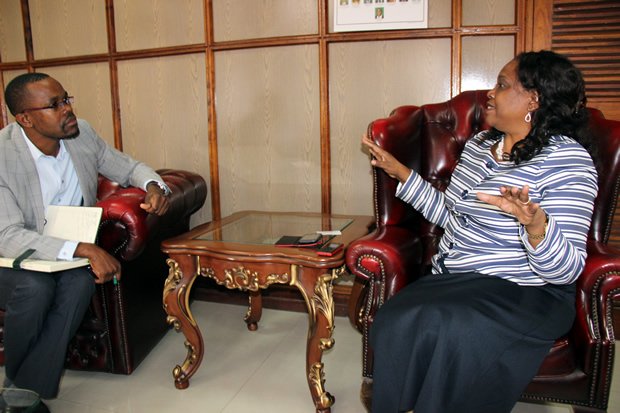 Ans: I am a pastor at bread of life church and I was ordained by Bishop Joseph Imakando so I have been a pastor for a long time.
Q: What is your role as ministry of National Guidance and Religious Affairs?
Ans: First and foremost, I want to thank God, I call this ministry of National Guidance and Religious Affairs as a ministry from Heaven, we are a blessed nation as Zambia and this ministry is so unique and it has come at the right time. President Edgar Chagwa Lungu listens from God, he heard God and announced the establishment if this ministry. So it is really a ministry that has come to strengthen us as a nation. It's a ministry that will refocus us in terms of where we are going. It is a ministry that is defining us as a people, giving us an identity, who we are, who is a Zambian? What is Zambia all about? We are a Christian nation, a people that has rich culture, a culture that mirrors the Bible, so this is such a great blessing to us. So as National Guidance and religious affairs the mandate that we have is one, to translate that declaration of Zambia as a Christian nation. As Zambians, we have given ourselves a constitution and at the beginning of the constitution, we say "We the people acknowledge God almighty as supreme" meaning that God is above everything, so we have chosen as a nation to be Christians, we have given our nation to God to manage our affairs, to reign over Zambia. And [the role of] this ministry now is to translate this and bring it into practical interventions. We have to make it a reality, you know we are a Christian nation and we walk like that. And in addition to that in the same Constitution the supreme law of the land, we have again given ourselves values, you see a nation that has no value is bankrupt you have nothing, you have no substance so we have given ourselves values, we are looking at immorality and ethics. We are looking at patriotism and national unity; these are our aspirations, we are looking at democracy and constitutionalism. We are a nation that respects the law, we are a nation of order, we are talking about integrity, human dignity, we are talking about good governance, sustainable development these are values that we have given ourselves. But in addition to that, we have values that are biblical and since we are a Christian nation, we have to embrace these values so all these things it's now this ministry to educate the people, to disseminate, to bring them into practice so that these values are lived, we walk them, we eat them, we speak them. When people come from outside Zambia immediately they land at the international airport they should feel that oh! This nation is a Christian nation indeed, look how respectable the people are, look how decent the women look, the way they talk, they are respectful they are hospitable and generally Zambia is a hospitable nation.
Q: I can tell that you are a reverend and I think you are good at your work, but what I would really like to find out from you is when you come into this office, because we haven't seen this before and very few countries in Africa have this ministry like ours, who are your clients? You have heard the malice, people are saying maybe this is the ministry now that will determine how much tithe one should give, how much offering…(laughs)
Ans: My clients are so many, my schedule is so tight.

Q: But you are no longer in the streets right where the people are? Those you used to interact with, you have abandoned them and now you have come to sit here in the aircon.
Ans: No actually my work is out there. For instance, last Saturday I was in Siyachitema, Siyachitema is in Kalomo it's a village deep there. I was invited by the Wesleyan Pilgrim, they were celebrating they were having a memorial. This lady who came from America her name is Claudia Peyton and she served in Zambia for so many years. So my role there, I go to encourage the people and to talk about the importance of community development and sacrifice; you know giving into your community, doing something into your community. She (Peyton) took care of orphans, so I have to talk about the importance of us reaching out to the vulnerable you know, let's look after those who are disadvantaged you know I talk about that. This morning I had a team; the council of Bishops came. They are interested in the issue of gender based violence, the gender issues, the girl child they are interested in how they can also get involved in the dissemination of values. You know they are happy about morality and ethics. They came so we discussed because they have to have an understanding of this thing we are talking about.
Q: So how do you come in as Ministry of National Guidance and Religious Affairs on issues of gender-based violence when you already have the Ministry of Gender and you also have the Ministry of Home Affairs which has the department of Victim Support Unit and the police, so how do you work without trespassing into other ministries?
Ans: That is why this ministry has National Guidance. It is cross cutting. When you talk about the issue of gender-based violence, how does it arise? Why do we have gender-based violence? Why do we have men killing their wives and their wives killing their husbands? What are the issues? We have found that sometimes when the husband rejects or abandons the home, then issues arise. When there is too much drinking, when there is womanising or a wife who is going away with other men, those are morality issues. So with this ministry we are looking at the family. When we talk about values let's start from the family because this is where everything starts. If we don't raise our children properly, some will end up on the streets. They will end up with youths who are not doing anything, who are not focused in life, not going to school, on drugs. Alcohol abuse; all these things, so we the Ministry of Religious Affairs have to work in the family, we work with the Churches, we work with communities and counselors to make sure that the family is firmly established. We have to make sure that there is the fear of God and morality. We are talking about work ethics; if you don't work you don't eat. So when the head of the family is drinking the whole day, starts drinking from 10:00 hours, then there is a problem. So concerning gender-based violence, there is the Ministry of Gender that is dealing with gender-based violence but where did it start from, it started from there. So that's how we come in. Then the Ministry of Home Affairs, we know they do register churches and they give permits, but now we have come in and we have given guidelines that for a church to be registered, we have to say yes because we have information, we have to be sure that this is not a false church. We have to ensure that this is a real prophet who is coming from Nigeria to come and do crusades. So before they give the permit, we have to say yes.
Q: I am happy you say "we" who is "we". You have told us who you are and your background and we can tell that you have done a lot of work in the Body of Christ, but when you say "we" are you referring to members of staff in your ministry?
Ans: Yes. We, the ministry of National Guidance.
Q: How many are you and how qualified are these people?
Ans: Oh! Very. Oh my God! Let me tell you something. Ministry of National Guidance and Religious Affairs has to be the standard. We have to be the standard and even in government. We need to have people of integrity, people who are qualified to do the work, people who are seasoned, people with a heart of patriotism. This is what we want to see in every Zambian, being patriotic. Even as you are digging for the news you are patriotic. You value your nation. So in the Ministry of National Guidance we have the minister, you have the permanent secretary, you have directors, thus director HR, director planning – we have to plan the work, we have to do a lot of research, information dissemination…
Q: Are these people qualified?
Ans: Oh yes!
Q: All of them?
Ans: Yes, at director level you have to have a Masters [Degree].
Q: Well, you can have a Masters Degree in engineering and cannot do the work in the Body of Christ.
Ans: That's why we have to assess them properly.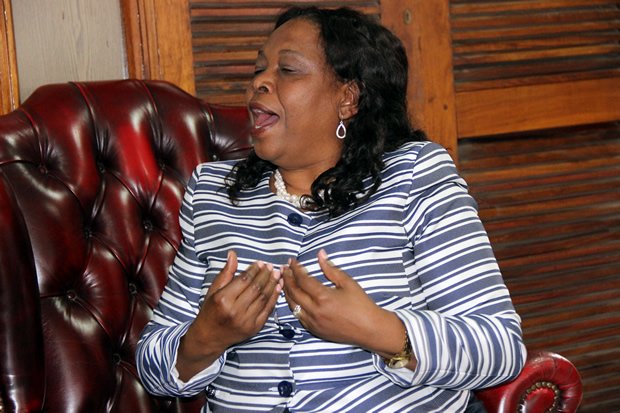 Q: So have they been assessed?
Ans: Oh yes! We are working with a department in Cabinet who are doing that. They have to make sure that these people are qualified. These people have experience… some of the staff we are getting them from within the system. Like planning, and what they have being doing those things. Maybe they are coming from Ministry of Development and Planning, they come to us. So we are going to have a Director Religious Affairs, Director National Guidance; about four directors and then things will fall in place.
Q: Can you assure the nation that these people understand the Body of Christ; these people you are working with?
Ans: Yes, especially Director for Religious Affairs, it has to be somebody who has been familiar with the Churches, familiar with what is going on in the body of Christ. But of course they have to have the education background with proper experiences. They have worked with the churches and they understand the work.
Q: Do you have this particular person in place?
Ans: Not yet, but we have identified. They have to go through the system.
Q: What about your budget, I see that you are still squatting here at the Ministry of Foreign Affairs, is your building still being built?
Ans: The thing is that, in the first year we are going to have 66 staff, but by next year; because we also have to go into the provinces and districts eventually, so we will be about 200 or so. Right now we have offices in the Government Complex, that's where my staff are. That's not adequate so eventually we have to have our own building and they are looking into that. So I will be shifting very soon to join the staff at Government Complex.
Q: I heard you in Parliament Honourable Miniister giving a very moving position on how you are going to move forward to registering churches and making sure that false prophets are flushed out. How do you define a fake prophet? Is it somebody who prophesied and the prophecy did not come to pass? Is that a fake prophet?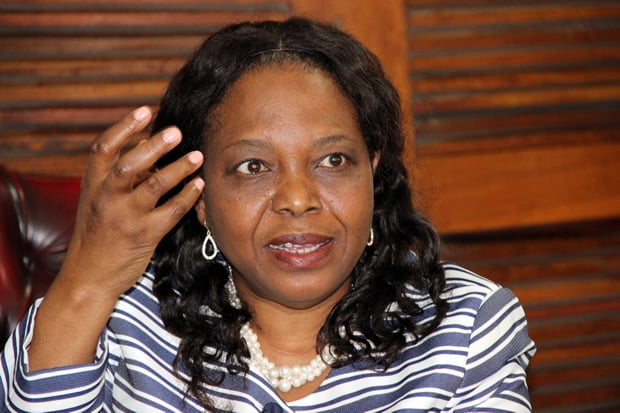 Ans: First and foremost we are a nation of laws. We respect the laws that govern us and there are regulations which we need to follow. And also, we are a Christian nation, although we have allowed other religions to warship their faith. The Bible is very clear; prophets are supposed to be very full of the Word of God because they speak on behalf of God. We are created in the image of God, we are honourable, we carry the image of God Himself. And therefore, these people who are supposed to speak on behalf of God have to speak the Word of God because they are speaking on behalf of God. Even in terms of ministration, they are not supposed to bring the name of the person down. We are dignified, so when you find someone coming and speaking unbiblical, you know this is not from God.
Q: Those are the fake prophets?
Ans: Fake Prophets! Because they are not speaking what God is Speaking. They are doing their own thing. Some even before they speak the word, because they are supposed to edify… A prophecy is supposed to edify the person, encourage, bring them up. Not to tell somebody that 'the person who made you sick is your mother-in-law', things like that. Or 'drink this water' and even on the water you put expiry date. Not saying, 'first you put money here'; Jesus said freely you have received and freely you shall give. So if the focus is on money, that is now miss direction. People will give as they are moved by the Holy Spirit to say 'thank you Lord for what you have done for me, I will give a seed'. Even when Solomon was building the house of the Lord he called for donations, for people to bring offering. They took offering [out of] free will. But not where there is even a price, on the oil there is even a price. On the water, there is price. That is definitely not biblical. So any unbiblical practices, that is false.
Q: Honourable minister I also heard you in Parliament saying even those churches and faith-based organisations which are already registered, a review will be done and those that are not genuine, will be deregistered. Now someone would wonder, because the Church has been key at not only giving checks and balances to the government but also criticising those leaders in government. If a church leader has been critical of His Excellency the President of the Republic of Zambia Mr Edgar Chagwa Lungu, saying the man is a wrong leader to run this country because he drinks too much, how safe are such churches and church leaders who have been very critical of the President, who appointed you into this position?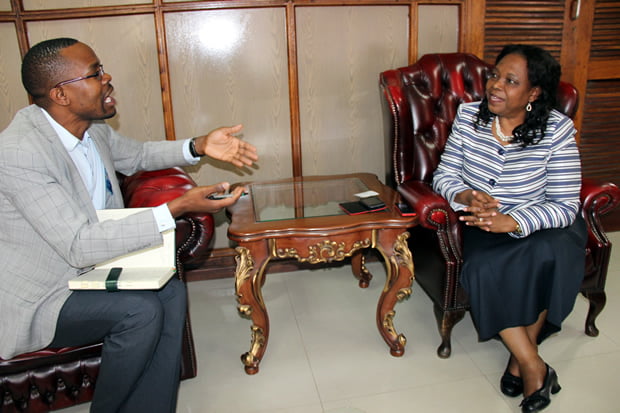 Ans: Let me say that the Church is the Body of Christ, that's how serious it is. So no man can dismantle the body of Christ. For you to be in the body of Christ you have to be genuinely connected to the Body of Christ. The pastor should not report to himself no, he has to be accountable these are the issues that we are talking about morality and ethics, accountability, transparency these things we have to see them in the church and then of course you have to preach the gospel, the true word of God. So if a church is there masquerading to be a church of Jesus Christ but they are not, definitely it will be so clear and we have a lot churches which are not affiliated to church mother bodies they are just by themselves they don't account to anybody, so we are going to check on them. Let me say this that our role is to build, is to strengthen, is to empower we appreciate what the church has been doing in Zambia they have been actually supporting the work of government they are in social justice, they are in health, they are in education, they are in agriculture, they are in community development, they are doing so much work and we appreciate as government so this is what we want to maintain and even deepen the work of the church so those that are spoilers have to be flushed out.
Q: My question is; how safe are those churches that have been critical of the President?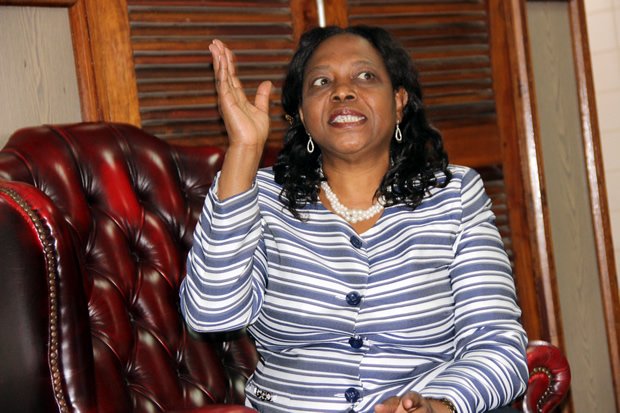 Ans: No, I said the church belongs to Jesus Christ so the church is the voice and we expect the church not to be partisan, lets be non-partisan and when they speak they are speaking on behalf of the voiceless, we expect positive involvement or direction or counsel. Even the President says church, pray for us and counsel us. The church needs to speak that's fine and we expect them to speak properly, not insulting. How can a church say this one is a drunkard, a church? No! A church, if they notice this leader, this Cabinet minister is drinking too much they should visit and give proper counsel privately and pray for that leader, there's no one who is perfect; we are all being built up and this is what this National Guidance is all about.
Q: And those church leaders and churches that will now go on rampage saying the President is drinking too much? Are those the ones that you will deal with?
Ans: Yes, I think then they are on the wrong side because as the church we don't expect them to do that they are the counsels they are the voice of God yeah.
Q: But how can the church be non-partisan when you the minister belong to the PF?
Ans: This ministry belongs to everybody, yes I am PF but I can tell you that in my approach…I am very balanced because of the work, the assignment that I have. I have to deal with everybody, everybody needs to be guided. HH needs to be guided, and all the others needs to be guided.
Q: Do you have any mechanism in place to start scrutinizing these people claiming to be prophet, how are you going to identify them?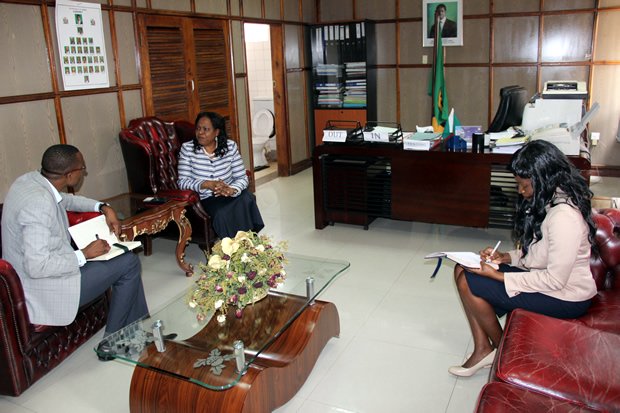 Ans: You know we want to be organized, we want to be methodical, we want to be professional so that everything that we do is properly documentation and can be justified. Like I have said my role is to build the church so I am not just there like a policeman trying to catch somebody no. That is why we are sending the message, 'put your house in order, we are definitely going to come and look at how you are operating'. We are going to work with the church-mother-bodies because one of the concepts we want to develop is self-regulation. You know the church is mature, the church surly should guide us. They should help us, so as a ministry we shall work with the church-mother-bodies because they have members under them. But first we should start with the mother-bodies themselves, are they fit to be a church-mother-body? Do they have systems of accountability in place? Accounting systems? Staffing? The equipment? The records, do they have an effective board? All those things and then they have to now apply those systems to their members. We are going to work with them, in some cases it's to strengthen the churches, they may not have this and that but they want to preach, they are doing the right thing but they need to do certain things. So we will guide them, we shall do workshops, we shall help them out and those that are really false those are the ones that we have to clean out.
Q: Have you received any concerns from members of the public on some people that they think might be false prophets?
Ans: Oh yes we have. In fact these are coming from the churches themselves. You know we work with the pastors fellowships in the communities they know that church and that church and what they do, so yes we are receiving information about this and that church that and that prophet, this is what they are doing they are giving water and there is an expiry date on water all those things we will investigate but we want to do a professional Job.
Q: Talking about flushing out false prophets, the Bible says offer guidance to one another, are you going to let them undergo a transformational process and be taught the word of God as it should be taught?
You know some of these people they have been in this thing for a long time and it's a business to them. So we shall engage them, we shall discuss we shall talk. I will talk to them, I am a woman of God and you know our desire is people to repent and come to the full knowledge of Jesus Christ. So that is the goal and you are right we will counsel we will talk to them, in the meantime when they are undergoing transformation they have to stop practicing this thing until they are reformed and transformed.

Q: Is there anything you would like to add on Minister?
Ans: I think the thing that you have to bring out is the issue of us empowering the church instead of like tulebafumya we want the church to be empowered; we want the church to do the right thing. We want the resource that we have in Zambia to reach every Zambian you know even distribution of wealth, we do not want this corruption where so much goes into one person's pocket. So in terms of values principles, ethics, morality we will start with the leadership, they also have to undergo that. The Cabinet ministers, we will do that I think we are planning for June to have a proper workshops for Cabinet ministries then it will come down..
Q: Thank you Honourable Minister.
Ans: You are very welcome. I am very inspired to see that we have youths in this country who want to bring change