PF Lawyer and Politician Kelvin Bwalya Fube says Linda Kasonde is young and too excited to be LAZ President.
This Saturday, LAZ will hold an Extraordinary General Meeting to allow lawyers an opportunity to impeach the Kasonde-led executive; as sought by KBF on grounds that the association was working with the opposition.
But according to Times of Zambia records, in 1999 when President Edgar Lungu was a member of the LAZ council, the association invited opposition UPND leader Anderson Mazoka to address the Law Association of Zambia annual ball.
On Wednesday KBF told a group of lawyers during a forum at Chrismar Hotel, that the PF had tasked him to ensure the removal of Kasonde before the ruling party could dissolve the association.
This morning, KBF featured on the Hot Seat programme on Hot FM Radio where he escalated the call for Kasonde to go, saying she had a "know it all" altitude.
"The lack of consultation and this attitude of 'I know it all' has really affected the association. Maybe it's excitement because when people are young and you give them power, they get excited and so they think they can bully people around but some of us are saying no! No, we have been here too long and we know the history of this association, we refuse to be bullied," KBF said.
"As far as I can remember, I have never seen a LAZ executive being moved for impeachment or a vote of no confidence, I have never seen such and I have seen a lot of LAZ presidents even when I was a young lawyer, all the previous presidents led the association with dignity and none of them was ever moved with a vote of no confidence."
Fube stressed that Kasonde's administration was immature, putting LAZ into a leadership crisis.
"Whilst we congratulate the Linda Kasonde executive especially Linda herself for being the first female president of LAZ, we have faced a very immature kind of administration, especially some of us who have been members of the Association for so long. The problem we have is that the leaders in the LAZ executive are trying to do the right things using wrong methods and by doing that, we are obviously facing a leadership crisis," he said.
And KBF said he and his colleagues had enough evidence to support the motion that was seeking to impeach the LAZ executive.
"We are not mad to just say we are going to move a vote of no confidence, we have seen things and with evidence we move, we are lawyers for God's sake and so when the evidence is overwhelming, to sit idle-by and watch things go to destructions, we are saying no because that way we are going to be irresponsible. We have tried, we have been trying to communicate with the association leadership to give them advice but they are not listening," he said.
And KBF said Kasonde had no regard for the judiciary.
"Kasonde has been attacking the judiciary with no evidence at all, who speaks like that? We are lawyers for God's sake and as lawyers our first task is to protect the judiciary and not to insult it," said Fube.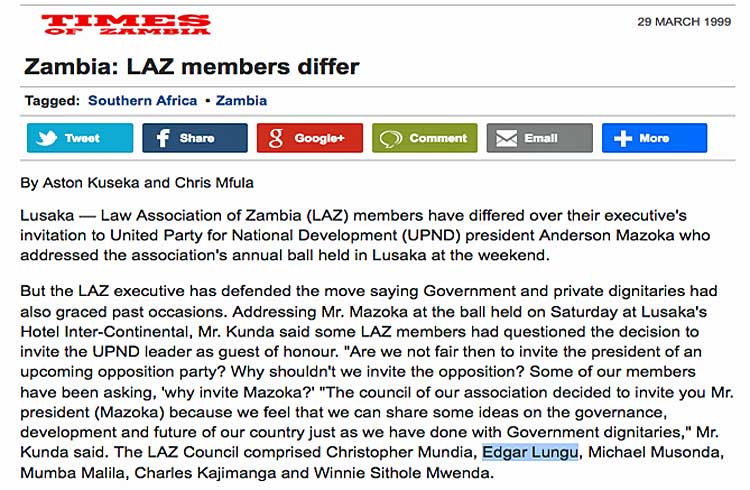 However, On March 29, 1999 the state-owned Times of Zambia reported that LAZ members differed over a decision made by the LAZ council comprising the incumbent Head of State, current Supreme Court and High Court judges.
"LAZ members have differed over their executive's decision to invite United Party for National Development president Anderson Mazoka who addressed the association's annual ball held in Lusaka over the weekend," Times of Zambia reported.
"But the LAZ executive has defended the move saying government and private dignitaries had graced previous occasions. Addressing Mr Mazoka at the ball held on Saturday at Hotel Intercontinental, Mr [George] Kunda said some LAZ members had questioned the decision to invite the UPND leader as guest of honour."
Times quoted former Republican vice-president Kunda as saying the LAZ council wanted to share ideas with the opposition leader on governance issues.
"'Are we not fair then to invite the president of an upcoming political party? Why shouldn't we invite the opposition? Some of our members have been asking 'why invite Mazoka?' The council decided to invite you Mr president because we feel that we can share some ideas on the governance, development and future of our country just like we have done with government dignitaries. Mr Kunda said'."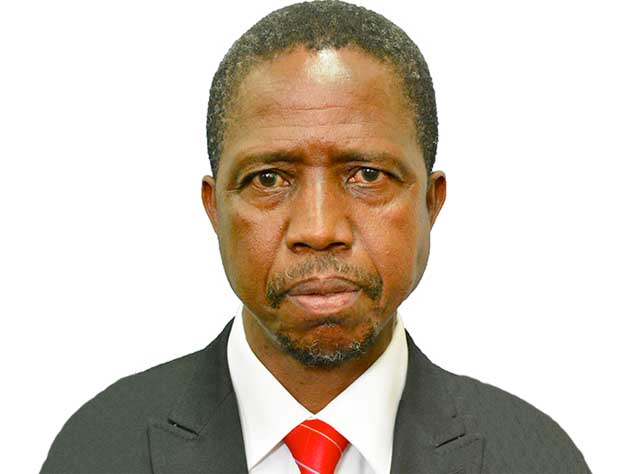 The Times of Zambia further reported that the LAZ council in 1999 comprised President Lungu, Supreme Court judges Mumba Malila SC and Michael Musonda SC, High Court judges Charles Kajimanga and Dr justice Winnie Sithole Mwenda who was recently appointed as High Court judge by President Lungu, as well as Christopher Mundia SC of CL Mundia and Company.
The President Lungu-led Patriotic Front has taken a position to remove the current LAZ executive for allegedly associating itself with the opposition UPND.