Former Information minister Chishimba Kambwili says people must not belittle him by worrying about his future as PF member of parliament for Roan, because he might have bigger plans ahead of 2021.
And the outspoken Copperbelt political heavyweight says he calls his Minister Bowman Lusambo a boy because he behaves like one.
In an interview with News Diggers! this morning, Kambwili emphasised that it was not logical for people to start endorsing candidates for the 2021 elections, and recalled that although PF wanted Michael Sata to be the sole candidate for the next election, the late president never made it to 2016.
When asked how he hopped to survive in the PF if not adopted as parliamentary candidate in 2021, considering that he was considered at loggerheads with the ruling party leadership, Kambwili said the question was belittling because he might be eying the presidency by then.
"Are you sure of that?" Kambwili reacted when told that a lot of people in PF did not want him. "That is a joke of the year! Those are wrong statistics, first to begin with, those are wrong statistics unless you say a few people then I will agree with you because those statistics you have are very wrong. Those few members who don't want me will be the ones to move out because they are few, you have already said 'those few' so they will be the ones to move out because they are very few and they are paid up"
When challenged that it was a possibility that he could not be adopted again on the PF ticket, Kambwili answered: "Excuse me! Adopted where? And who tells you that in 2021 I am going to stand in Roan? Why are you belittling me, supposing I want to stand as President? So how do you know for you to say 'if you are not adopted in Roan?' Politics is dynamic my sister. So you don't know what I will opt for."
Take a listen:
The former minister took time to explain that he was not comfortable discussing 2021 prospects, adding that it was time for those who were elected into political office to work.
"It's too early for me to talk about 2021 and I have advised so many times. This is time to work, not to talk about whether someone else will be adopted in Roan, somebody else will be adopted as President, that's too early to talk about those things. Tell all those who are talking about those things that let them work the way I am working," Kambwili said.
"I have no time to waste, to talk about 2021 because it's not my preoccupation. I have no time to waste to talk about 2021 and I will not even waste time to talk about 2021 because politics are dynamic. People were calling for Mr Sata, Mr Sata sole candidate, but Mr Sata died before 2016, so it's foolish for anybody to be talking about 2021 in my view."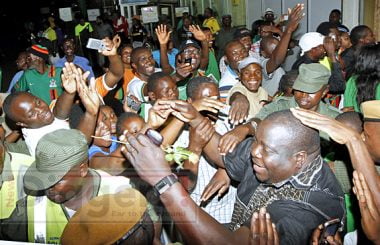 And, Kambwili said he was a truthful man and he would continue to call Lusambo a boy as long as the latter does not change his behaviour to that befitting a minister.
"I don't have any differences with anybody, for me I talk the truth, what is wrong is wrong. If black is black I will call it black, I will not call it yellow. And if that is having a problem with people then so be it. I call a spade a spade and not a pick for the sake of impressions. For me if somebody is a man and he is behaving like a boy, I will call him a boy, it's simple, that's me. So if one misbehaves like that and he is called a boy and you call it differences, so be it because if you are a Minister, you are supposed to behave like a Minister…you are not supposed to behave like somebody from the streets or somebody from the station," he said.
Meanwhile, Kambwili said he was not sure if he will register his concerns in the party at the forthcoming Central Committee Meeting to be chaired by President Lungu because he had not seen the agenda.
"I have not seen the agenda yet so it's very difficult for me to give any reasonable comment because I have not seen the agenda. But from the way he (President Lungu) spoke yesterday, it's like they want a reconciliatory meeting for all the people that have got issues according to them and of course we will cross the bridge when we get their," said Kambwili.