The Parliamentary Public Accounts Committee on Tuesday grilled chief accountants who served in the Ministry of General Education during the time when a cartel involving that ministry, the Ministry of Finance and ZANACO officials were siphoning money.
After General Education Permanent Secretary Henry Tukombe narrated what he knew about the fraud in which K3,488,327 involving 12 transactions were paid to three officers, PAC summoned the chief accountants who had been transferred; one to the Ministry of Finance whilst the other was with the Office of the Auditor General.
One of them narrated how difficult it had been to pin point the suspects due to ZANACO's uncooperative stance on the matter.
The former chief accountant also told PAC that Lawrence Phiri, the man at the centre of the fraud, had been cashing Ministry of General Education cheques even after being transferred to the Ministry of Foreign Affairs and could not give reasonable explanations when he was summoned.
Below is part of the verbatim of the session:
Chavuma UPND member of parliament Victor Lumayi:
Mr Mwanza (former chief accountant), there is an issue here, questionable payment. During the period under review, there were 12 transactions involving K3,488,327 which were issued to one Lawrence Bwalya Phiri and the same individual got all these payments, K290,000 one day, K320,000 second day, K289,500 third day, it went up to 15th September, 2016. However, this same person, his names were changing continuously. L Bwalya P, L B Phiri, Bwalya Phiri, B Phiri, Lawrence Phiri and at that time, you were the person in charge of handling the national resources at the Ministry of Education. The question is, how did you continuously issue the cheques to the said Bwalya Phiri involving these amounts continuously? Secondly, who signed the cheques that were cashed without the ministry's authority and knowledge? And were these authorized cheque signatories? Then the third one, how did the payments go through the bank without a backing sheet and what actions did you take as an accountant at that time because you were the man in charge of the cheque book authorising all the payments on behalf of the people of Zambia?
Levy Mwanza (former chief accountant at the Ministry of Education now chief accountant at the Ministry of Finance):
I was at the Ministry of Education until up to the first quarter of 2016. I then moved to the Ministry of Finance and handed over to my colleague. The time I was leaving, these payments which have been queried here did not come to my attention. They did not pass through my office to authorize them and I have no knowledge concerning these payments.
PAC Chairperson Howard Kunda:
Who was responsible at that time during the time that is being queried?
Mwanza:
Chair, as you may note, the dates which are here, the dates are partly towards the first quarter and continues up to the end of the year and partly I was there. So for those…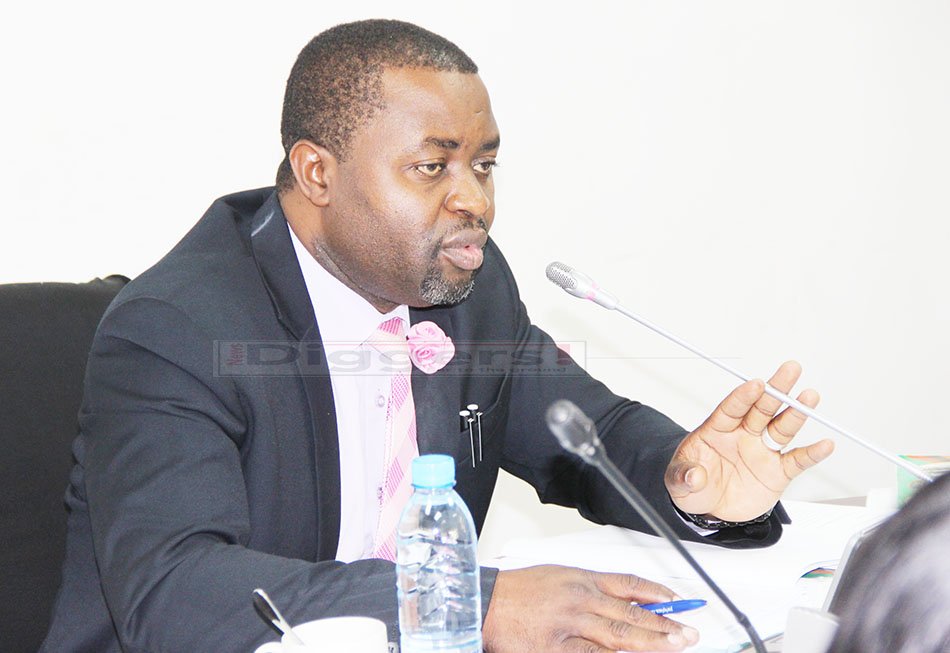 Kunda:
First of all, you said you were not there, now you were there. So which one is it that we should follow? Let's deal with these matters with the seriousness that they deserve. These are funds that affect the people out there so let us be serious with this matter. Could you please be clear with your answers.
Mwanza:
I said, Chair, that I was with Ministry of General Education until the first quarter of 2016. When you look at the dates concerning these transactions, the dates, some of them are actually when I was about to leave.
Kunda:
But you were there?
Mwanza:
Yes, I was there.
Kunda:
So could you please address the questions by honourable Lumayi. Those that you can't answer to, you tell us who was responsible that time so that we can proceed. We don't have a lot of time.
Mwanza:
I would simply say that these payments in the name of L Bwalya Phiri I'm not aware.
Kunda:
The query involves the other names as well, so could you please address that. What we are talking about is on page 178 of the Auditor General's report.
Mwanza:
Chair these issues there is a system of which we handle them. If they were not captured in the IFIS system, this payments never passed through my office.
Kunda:
So what you are saying is that you don't know anything about this?
Mwanza:
No
Teddy Kasonso:
Now why didn't you perform your duties diligently when you were chief accountant at the ministry? He has indicated that he is a qualified accountant. Now, under the financial regulations no 138-1 requires that bank reconciliation for government accounts at the Bank of Zambia and the commercial bank be submitted to the office of the Accountant General by the 15th day of the following month. We are told here, accounts were not been reconciled and as a result, government lost money. Why were you not doing monthly reconciliation if you are a qualified accountant? Why were you not performing your duties diligently?
Kunda:
Before you answer, who was there at the time? So that we get answers for the questions that honourable Lumayi has posed.
Mwanza:
I handed over the office to my colleague Mr Kanyama who is here.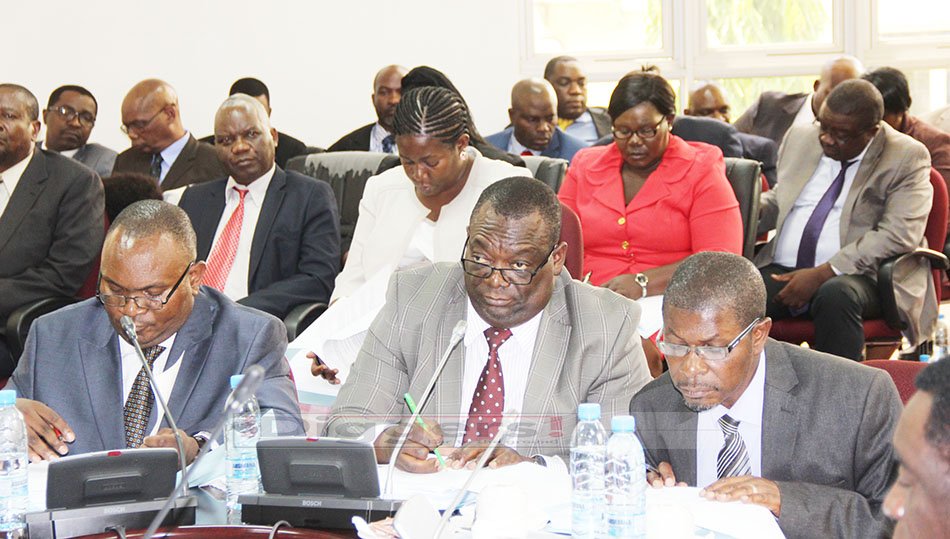 Tambatamba:
Can the then chief accountant tell us which date and month he left because just saying first quarter we will not understand. Let him be pointed then we can follow up to get to understand who was in the saddle on that particular date.
Mwanza:
My letter of transfer is as of end of March, 30th.
Kunda:
And therefore January you were there, so you will still sit there sir.
Mwape:
What we want to know, who were the signatory at that time? Who signed these cheques? I think that's the person we are looking for.
Mwanza:
The people that signed these cheques, I may not be in the know because I did not see the cheques.
Kunda:
I think Mr Kanyama can help us with these issues.
Harry Kanyama (former chief accountant at the Ministry of General Education now chief accountant at the Auditor General's office):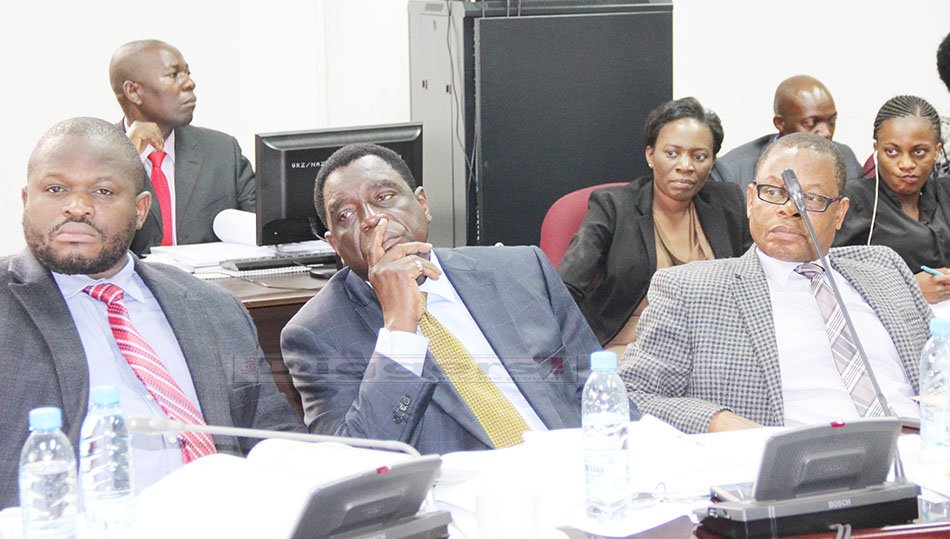 I took over from Mr Mwanza from the Ministry of Labour and one of the first things that I did was to come and appear here. If you remember there were issues that arose concerning the audit of the Ministry of General Education and one of the issues that arose that time was the unreconciled figure of 10 million in the account for 2014 and instructions were given here that we go back and do reconciliation. When we went back, the permanent secretary trusted me to do reconciliation and I picked a team of officers to do reconciliation for the accounts. I notified the permanent secretary about certain transactions that were suspicious. Foremost was the fact that the name Lawrence Bwalya was not among the officers that Mr Mwanza handed over to me. I did not know the individual and yet I had in my account cheques that were being cashed in the name of Lawrence Bwalya. So we did our due diligence and it came to my knowledge that Lawrence Bwalya was indeed one of the officers who had been transferred I think two years prior to my arrival at the ministry. Meanwhile, he was cashing cheques. Secondly, the activities for which the cheques were issued I was not aware of. When I notified the PS, we called the Ministry of Foreign affairs because it was established that Lawrence Bwalya was at the Ministry of Foreign Affairs. We called him, he couldn't come. The PS had to write a letter to his colleague at the Ministry of Foreign Affairs to compel the officer to come to the Ministry of General Education to help us clarify the issue of the cheques that he had cashed. In the meantime, we had two, three other names of the officers at the ministry whom we could point to but we did not want to alarm the situation. We waited first to find out from Lawrence how he was cashing the cheques when he was not in the ministry. So when the PS signed a letter, Lawrence Bwalya reported at the ministry and we had a meeting with him. In his submission, he claimed that the cheques were genuinely paid. First and foremost, when he came to the meeting, he was asked if he knew me by the PS to which he said no. He was asked that 'how is it that you were cashing cheques on behalf of the chief accountant when you don't know the chief accountant? This is the chief accountant'. That was my first time to meet him. So he promised that for all the cheques that were cashed, they were activities that were genuinely undertaken. My question was 'how is it that a cheque can be given to an outsider when we had enough officers in the ministry who could have carried that cheque?' So we asked him then to go and bring documentations pertaining to the activities that were undertaken for the cheques that were cashed. He disappeared. We started interrogating the officers within the ministry, they also claimed that the cheques were genuinely issued but no documentation was coming forth. So we had to go deeper. When I looked at the bank statements, of course they were coming from ZANACO, they were inconsistent, incoherent in the sense that you will find maybe February gives you from 1st February to 15th February followed by 1st March. So there were those gaps. I called ZANACO and asked for a comprehensive statement so that they help me to do reconciliation. ZANACO responded by saying that 'education is a big ministry you will need to bring a memory stick or disc for us to give you' which we did. I printed it in my office, I did a scan and I was able to pick a few inconsistencies like where money went out in the name of Lawrence Bwalya but in the earlier statements which I rejected it was showing that that money went to DEBS. In the statements that I printed, it's showing the name of Lawrence Bwalya so red flags were immediately raised. We called ZANACO for a meeting, because the amounts involved were colossal. We had a meeting in my office with Mr Chungu and Mrs Mutimushi from ZANACO where I presented to them the documentation that we had and our concerns. ZANACO promised that they would come back with information pertaining to the transactions. When ZANACO responded they said we needed to have a meeting. We had a meeting on the 10th of March and in my office, ZANACO told me, 'we have never seen what we are seeing here because no documentation existed concerning those payments'. There was no backing sheet, no letter from the PS, no documentation from the Bank of Zambia and no authorisation from the Ministry of Finance. I informed the PS about the development and ZANACO promised that they will come back. Of the money that was missing at that time, they provided documentation for two or three which put us in awkward position because we needed to look at the used cheque to see who signed, we needed to look at the backing sheet to see who issued it, we needed to look at the permanent secretary's letter to see when this activity took place, there was nothing.
We went into our records and found that those activities related to nothing in our records. We had to write another letter to compel him (Lawrence Bwalya) to come and asked the Minister of Foreign Affairs that they can excuse him from reporting at foreign affairs until we have resolved the issue. In the meantime, ZANACO wrote a letter to the ministry to say that some of the transactions in the earlier statements which I doubted indeed differed from what was contained in the comprehensive statements. In short, they denied that the earlier statements were issued by them. And then, they said they will get back to us, that's where we left ZANACO. By the time our colleagues from the Auditor General's office were arriving to do their duties, we had already started the process. We informed them and told them this is what we have. Of course they picked it up from there. In the meantime, we wrote to the Ministry of Finance asking that the account be closed because I was uncomfortable dealing with an account whose activities I was not in total control of. We wrote a letter to the Ministry of Finance asking that the account be frozen. There was no response from them. In the meantime, a letter of transfer came and the rest is history. Of course in my handover notes, I wrote a letter to the incoming chief accountant Mr [Fresco] Mponela [current chief accountant]. I mentioned in my handover notes that there are issues pertaining to activities in the account, that needed serious follow up. Pertaining to the cheques, my observation is that the cheques that were used for that fraud that we picked from the bank statement were not relating to the cheques that were being issued during that period. Meaning that we were not in control of the cheque book from where these cheques were being obtained. We did not have used cheques from ZANACO to show us who signed, when and who did what. ZANACO just left us in a limbo. They never responded.
Tambatamba:
PS, you are clear that you didn't pay money to this person Phiri, what action have you taken in terms of following up with ZANACO on this issue? In that how they did allow your money to move without the required documentation?
PS:
I did mention that there are three pillars involved, ZANACO, Ministry of General Education, Ministry of Finance. And we are not seated. We have pushed the matter up to the Accountant General so that we can compel ZANACO to look at the issue that they should refund the money because when you look at the parameters, how do I honour a name bearing different features? It means they are also to blame. Anyway, we are not seated.