Ministry of Finance Director of Economic Management Ireen Musonda Habasimbi says the ministry has not yet received an update from the Bank of Zambia on when Intermarket Bank will reopen to the public.
On February 28 this year, Finance Minister Felix Mutati informed Parliament that the bank would reopen within 30 days, which elapsed in March. The minister further revealed that new shareholders had been found who would take up major stake and recapitalize the staggering financial institution.
"Trade capital has been injected in the bank to ensure the bank is no longer insolvent. As we speak, the bank is in surplus in terms of cash," Mutati assured Parliament.
To date, the doors of Intermarket Bank have remained closed to the public and people's savings are locked up while loans have been going unserviced since November last year when the Central Bank announced the takeover.
An investigation has revealed that the Bank of Zambia was careless in the handling of the Intermarket Bank – leading to its downfall. This is made clear when you analyse what happened to Intermarket Bank.
Under the Zambian law, the minimum capital requirement for local and international banks is K104 million and K520 million respectively. That means, in order for a local bank to operate in Zambia it needs to have K104 million liquid cash as operating capital, while a foreign registered bank requires K520 million.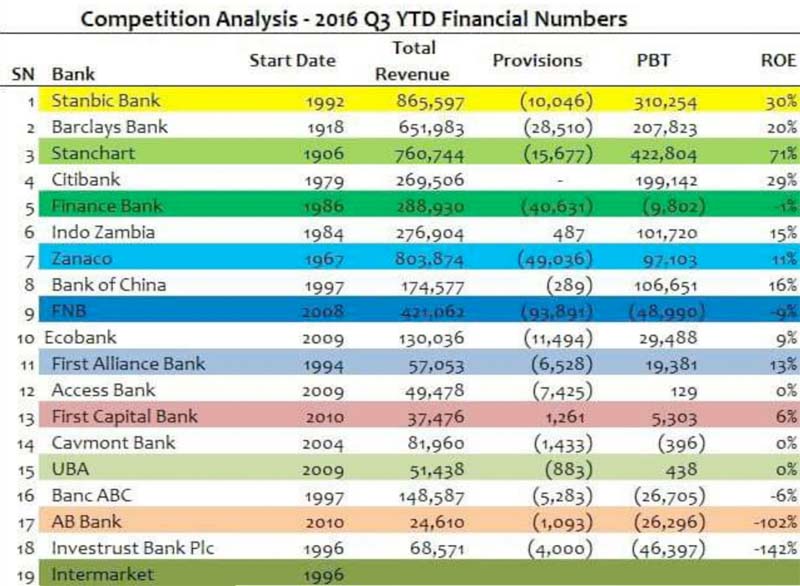 Now, when the central bank moved in to close Intermarket Bank, it was reported that the bank had been in the process of converting from a foreign bank, to a locally owned financial institution – an apparent sign of an already weakened financial position.
Indeed, the Bank of Zambia announced that Intermarket Bank was operating below the prescribed minimum requirement for a local bank – meaning the bank was insolvent or cash strapped.
Before Mutati declared Intermarket Bank solvent again in Parliament last February, the Central Bank told News Diggers! that the financial institution had been operating with a baggage of unpaid loans.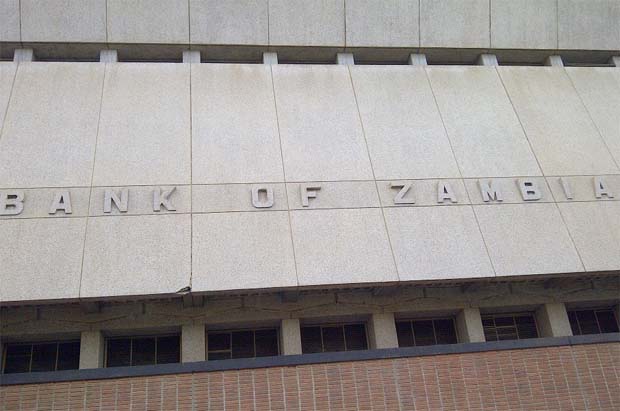 Bank of Zambia Deputy Director of Bank Supervision Raphael Kasonde said "Intermarket was operating with a baggage of unpaid loans over many years. Some of the loans at Intermarket are not a new problem, they are a legacy issue," he said.
Sinkonde did not respond to specific questions about why the Central Bank did not intervene quickly enough, and even his response was after a string of appointment deferments by his senior and several references to other Central Bank offices.
Clearly, the Bank of Zambia realised that Intermarket Bank was not properly supervised, but did not want to take the blame for its downfall.
This prompted PF Kabwe member of parliament Tutwa Ngulube to ask Mutati on the floor of the House to "confirm or deny if the Central Bank was in some way negligent in the manner they monitored this bank".
In response, Mutati said: "Mr. Speaker, the issue of negligence, whether criminal or otherwise will be dealt within the context of the Banking and Financial Services Act."
News Diggers! then turned to the Bankers Association of Zambia (BAZ) where Chief Executive Officer Leonard Mwanza said, under the circumstances, the Central Bank did what it could, to protect the integrity of the banking sector.
"This action taken by the Bank of Zambia is aimed at protecting the integrity of the country's payments systems and the stability of the Banking sector," he said.
Mwanza agreed with the News Diggers! observation that the Central Bank delayed to act and save the collapse of Intermarket Bank, but contended that it was "a positive delay".
"In fact, that was a positive delay. A positive delay towards making sure that the institution was given sufficient time to reorganise itself, sufficient time to find new shareholders as the case was," said Mwanza.
A News Diggers! research has gathered that the most recent change to the Intermarket Bank shareholding structure is an addition of an American investor, William Charles Morro.
Records at the Patents and Companies Registration Agency (PACRA) show that Intermarket Bank was previously owned by four companies – Active Role, Afriland First Group SA, MMK Corporate Services Limited and Sabre Capital Worldwide Zambia Limited. The three – Gilbert Armenta (U.S national), Michael Mahachi, (Zimbabwean) and Michael Chanda – a Zambian are registered as directors, while Gibson Muringai, Nicholas Mugwagwa Vingirai and Freeman Terence Kembo (Zimbabweans), (Icelander) and William Morro, an American businessman are registered as shareholders/members.
Under Sabre Capital's investment in 2008, Intermarket Bank embarked on an expansion programme to open more branches and roll out more products, with optimism that a US$10 million injection would help strengthen the bank's operating capital as well as human resource capacity.
In March 2010, Afriland First Bank, based in Yaoundé, Cameroon acquired 80 per cent shareholding in Intermarket Bank Zambia, for an undisclosed sum of money. UK based – Sabre Capital Worldwide, the previous majority shareholder retained 20 per cent ownership. Afriland also took 80 per cent shareholding in Intermarket Securities, which was 100 per cent owned by Intermarket Banking Corporation.
There was inconsistence in the shareholding structure of Intermarket Bank as well as its human resource, including management. This led to instability of the bank's operations with reports of money being lost through fraudulent transactions.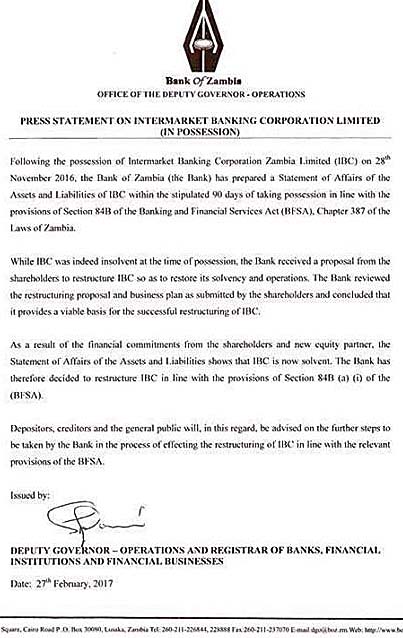 Former Chief Financial Officer Isaac Kandila wasn't willing to share his experience at Intermarket Bank and the current CEO, Jon Gumundsson was also unresponsive.
Since the Bank of Zambia said Intermarket Bank had been staggering with a baggage of unpaid loans, explanations could not only be demanded from the above names. Previous CEOs, Richard Phiri, Sebrendu Chattej, Ackim Sinkala and Robert Nkousi were not available to make any comments on the closure of the bank.
But Sherry Thole who was CEO between 2005 and 2007, was gracious enough to confirm that the bank issued loans to people and businesses that were overlooked by other banks.
Although she was disgusted by the repeated pestering from News Diggers! for a face-to-face interview, Thole disconcertingly explained that no loan was given without following procedure.
"I gave Zambians loans at a time when all the banks were not looking at that sector (small and medium enterprises). I did not give loans to politicians," she said in an email.
"For these loans to be disbursed there was a credit committee at management and board level so I cannot shoulder that responsibility [of the bank's closure]."
Asked to comment on the allegation that she gave loans to influential individuals in order to gain political credit, Thole who was appointed Permanent Secretary immediately after Rupiah Banda won the 2008 election, said she left the bank intact.
"Please note that I left the bank in July 2007 and decided to join politics in 2008 when there was a presidential by election, after which I was appointed as Permanent Secretary [in the Ministry of Science, Technology and Vocational Training]. Totally nothing to do with the bank nor patronage."
The story of Intermarket Bank is that of finger-pointing and no one is willing to take the blame. Even when Mutati assured the nation that the bank was ready to open business to the public, the Ministry of Finance is not ready to take responsibility of the minister's pronouncement.
When contacted, Habasimbi said the ministry relies on information from the Bank of Zambia.
"They are the ones in charge", she said.
"Once they do their internal work, they get back to us. I'm sure there are a few hitches that they're trying to address, otherwise it will open."
Meanwhile, in this video, 84-year-old Yotam Cholota together with other depositors are crying for their money. 46-year-old Marketeer Wedson Fubisha narrates that the bank closed just after he had deposited the money.