SENIOR police officers at Force Headquarters this morning evaded UPND leader Hakainde Hichilema who had gone to negotiate for Oracle Media proprietor Mutinta M'membe's release.
Police yesterday arrested Mutinta and detained her at Kabwata Police Station where she was charged with contempt of court after she allegedly tore a search warrant during a raid at the M'membe residence.
The action by police sparked outrage as critics of the PF accused the government of trying to shut down The Mast newspaper, which is published by Mutinta's company.
Hichilema also condemned the police harassment and visited Mutinta at Kabwata Police this morning in the company of his wife.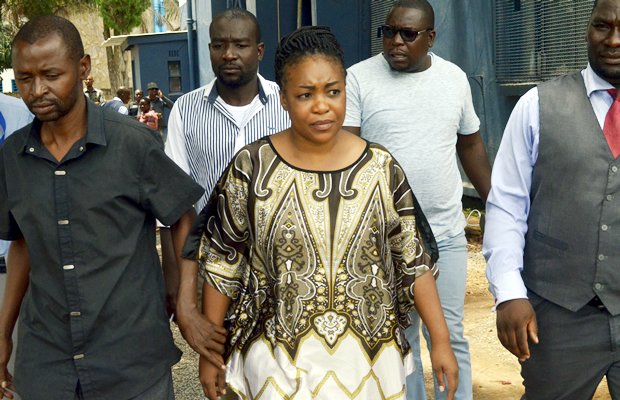 Shortly after a 15-minute chat with the visibly dejected Mutinta, Hichilema said police treated her unfairly.
"The police acted in a brutal way because they used undue force on Mrs M'membe and her guard to arrest them. The police are becoming brutal by the day and I think this is an instruction coming from Lungu and whoever else, which is unacceptable in a democratic country. This is the wife, they were looking for the husband so why arrest the wife if the husband is not there?" Hichilema asked.
Hichilema then proceeded to Police Headquarters with Mutinta's lawyers where they hoped to meet the arresting officer and facilitate for police bond but all the senior officers evaded them.
He wondered why the police didn't want to grant Mutinta a police bond when it was her Constitutional right.
"This is a breakdown in the rule of law because the Police must discharge their duties without even any concern at all and bond is a Constitutional right of every citizen so I don't understand why these people are running. How can everyone be running away from their office? Because they are scared that if they are seen to be serving us they may be fired. This is what is happening to our country, the system is rotten, the police system is rotten, the judicial system is rotting, everybody is just ducking," said Hichilema.
Mutinta was arrested and charged with contempt of court yesterday after police raided her residence in search of her husband, M'membe, for whom they had an arrest warrant.
But Dr M'membe is apparently away visiting Jamaica and the United States of America and is only due to return next week.
Police have also launched a manhunt for Lawyer Nchima Nchito State Counsel, whom they are accusing of criminal charges relating to The Post newspaper.