ZAMBIA Environmental Management Agency officers have inspected Post founder Dr Fred M'membe's residence after obtaining a Warrant of Access from the Lusaka Magistrates' Court.
According to the Warrant of Access, Christopher Kanema made an oath that ZEMA had reasonable ground to believe that an offence had been committed at Dr M'membe's residence.
The order stated that the crime which the agency believed was committed related to printing.
This afternoon, three ZEMA inspectors and two plain cloth police officers stormed Dr M'membe's residence to proceed with inspections.
However, the team led by Kanema tried covered their faces to avoid being photographed.
Kanema was heard asking Mutinta M'membe's lawyer Sashi Kateka not to allow the media to air or write about their inspection but Kateka dismissed the request.
The inspection was conducted under five minutes and attempts to interrogate Mutinta failed.
Below is the actual Warrant of Access: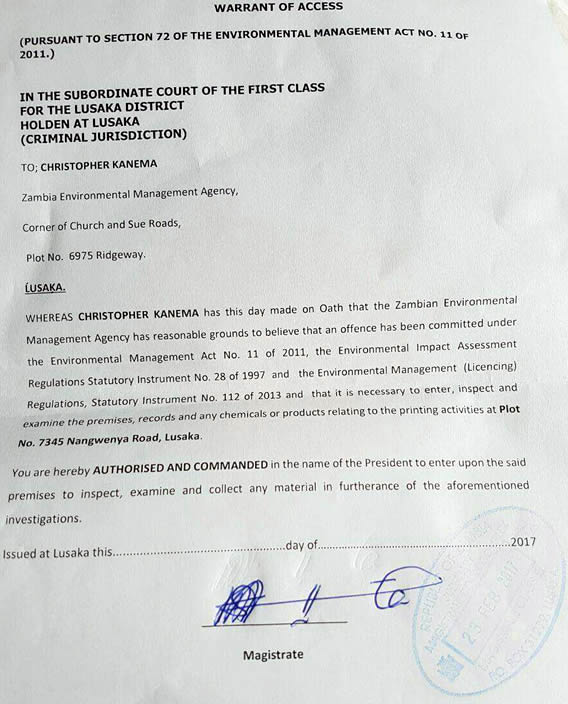 Last week, a horde of heavily armed police raided Dr M'membe's house after the Lusaka Magistrates' Court ordered the Zambia Police Service to arrest him for allegedly impersonating a Post official.
Police instead arrested Mutinta after accusing her of tearing a search warrant.
The police, who have since been camped at the M'membes' residence, under Post provisional liquidator Lewis Mosho's instruction, they towed Dr M'membe's speed boat and attempted to dismantle a printing press which The Mast had been using to print its publications from his garage.
However, after failing to successfully dismantle the printing press, they only took away small components; rendering the machine useless.