President Edgar Lungu says UPND leader Hakainde Hichilema is amongst the longest serving opposition presidents in Africa and he would never leave State House if elected into office.
And President Lungu says he will not permit lawlessness in the name of dialogue.
Meanwhile, President Lungu has boasted that the PF is ahead of the game in terms of intra party democracy, and therefore in position to rule forever.
Speaking when he officiated at the PF Copperbelt Conference, Saturday, President Lungu mocked his political rival Hichilema saying he was among the longest serving [opposition] presidents in Africa.
"A Zambian political party leader appears amongst the longest serving presidents in Africa. He has been at the helm of his political party for 17 years. So if he goes to State House, can he want to leave?" President Lungu asked, in apparent reference to Hichilema who has in actual fact been UPND president for about 12 years.
And President Lungu said he would not permit lawlessness in the name of dialogue.
"Let me tell them that I will not abdicate my responsibility as President. As we talk to our friends, we need to make sure there is law and order so don't break the law and say "no, Lungu is undermining democracy", no! We will arrest you and send you to court and if you are guilty we'll lock you up, that's all.
I want to make it very clear because I have heard some remarks, I have heard some schemes which mark of lawlessness. And when we say stop it, they say "but he is undermining dialogue". Dialogue does not mean that you break the law or we abdicate our responsibility as leaders, we are here to provide leadership," he said.
"We will ensure that we continue engaging other people in a friendly manner and avoid acrimonious altercations because these undermine democracy. So as we progress, we will make sure rule of law is adhered to…we will not permit lawlessness in the name of dialogue."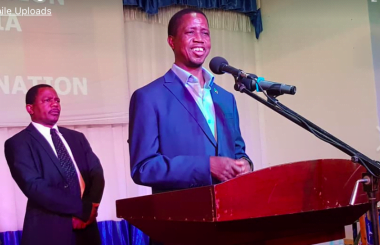 Meanwhile, President Lungu boasted that the PF was the most Democratic Party in Zambia and therefore, the party of choice.
"The PF remains and continues to be Zambia's most Democratic Party, compared to non. As I speak today, I can hold my head high and say the PF is the most attractive party in Zambia…Give me a party which does the things which are in the Constitution, it is only PF. So only PF qualifies to provide leadership to the Zambian people. Therefore, it is not an exaggeration when I say that the Patriotic Front remains Zambia's number one political party of choice above any other…such renewals as the ones we are having today reignite the people's confidence in us because we are answerable to them through the electoral process.
It is only our continued adherence to intra party democracy which gives us more latitude to continue forming government forever as long as the opposition is not putting its house in order," he said.
"They will continue talking but as long as they don't adhere to the Constitution, we will continue talking always. It is not an insult, don't take Zambians for granted when they say 'after Edgar Lungu in 2026, let's put someone else from PF until 2031, until I don't know when', until we fail the people of Zambia. And it's not even rigging, no."
He reiterated that government would ignore those talking nonsense.
"We are responsible [for national affairs] so the burden is heavy. But those others can oppose anything because they are not responsible for anything…Those of you who are talking, if you are talking nonsense, I will say 'you can have your say, we will have our way'," said President Lungu.
After the conference, Luanshya Mayor Nathan Chanda was elected Copperbelt Provincial chairman.