ROAN PF member of parliament Chishimba Kambwili has mobilized support on the Copperbelt as he awaits the decision of the ruling party's central committee.
Since his dismissal from his position as Minister of Information and Chief Government Spokesperson last year, Kambwili has been spending time in his constituency and has been speaking against some of the Patriotic Front decisions.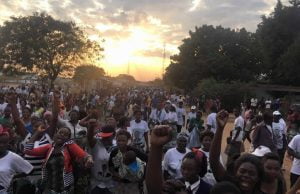 On January 19, 2017, he made an emotive posting on his Facebook page saying the PF was going against its campaign promises by chasing vendors from the streets but later deleted it for unexplained reasons.
However, yesterday, Kambwili posted some pictures depicting a massive crowd of PF supporters with himself standing through a sunroof of his Ford Ranger pickup reg number CK 200.
The cadres were seemingly welcoming him to his constituency, and he captioned his pictures: "walk with me to Roan".