NGOCC board chairperson Sera Longwe says President Edgar Lungu must fire his political advisor Kaizar Zulu otherwise people will equate State House to hooliganism.
On Monday, Kaizar Zulu was reported to Matero Police Station for assaulting a female police officer, who was working with CAF as a stewardess, at Heroes Stadium during the prize presentation ceremony on Sunday evening.
CAF officials had to drag Zulu, who was visibly drunk, out of the pitch, causing a scene as President Lungu officiated at the prize presentation ceremony.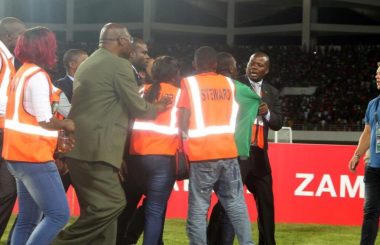 But in an interview today, Longwe wondered why President Lungu was silent on the matter; noting that this was not the first time Kaizar had assaulted a woman.
"We don't think this is a presidential material person. He should lead by example and it is the second time he has publicly assaulted a woman. Another woman, when she hooted, as if there's a crime against that, we don't even know what happened in that case and this time he aimed for the police woman," Longwe said.
"He a perpetrator of gender based violence and especially violence against women. So what kind of political advisor is he? So we are wondering why the President is still keeping him there and why he hasn't said anything to reprimand him. And for the, President, who is the patron of He for She, to be silent, it doesn't olga very well. So as He for She patron, he is there to protect the integrity of women of all ages and of all standing. So he must do something and I'm sure he must have noticed, if not, someone must have alerted him because the last one happened right where they were on the same podium."
Longwe said being a State House official did not give anyone the right to be disrespectful.
"Being from State House doesn't mean you disrespect people, you should be more respectful. We expect much more understanding, amicable and well meaning behavior from somebody from State House because now we will equate State House with hooliganism," Longwe said.
"He [President Lungu] is not doing his presidential duty if he keeps keeping people who have behavior which is becoming unbecoming and is an affront to society and against what we think he believes in. because he wasn't picked for He for She for nothing. We don't know what his [Kaizar's] behavior is towards the women he knows, because it's done in private but if his public behavior is like that; antagonistic and violation of women's rights, then I don't know why the president is keeping him. We don't know why he is keeping quiet and we want answers. One of the answers we want is that Kaizar must leave that place."
In July 2016, Kaizar assaulted a 25-year-old, Liseli Mulube, woman of Lusaka's Chilenje area following brawl at a filling station.