In this audio, State House press aide Amos Chanda says it is a lie that the police command has stopped the opposition UPND from holding a card renewal exercise.
But according to a letter dated August 21, 2017, Lusaka Province Police Commissioner Nelson Phiri denied the UPND a permit for the event, saying the Threatened State of Emergency was still in force and that the situation was not conducive for such an exercise.
Speaking during a press briefing at Twangale Park in Lusaka today, Chanda said if police had denied the UPND a permit, they would be "guided" to allow the exercise.
"We have received reports, some of it confirmed, some of it unconfirmed that police have said they will not allow the UPND to proceed with the card renewal exercise. Upon receiving that information, we are very reluctant and I must say this, and I am saying this because of the innuendos and rumours in the social media and elsewhere that the police have stopped that meeting," Chanda said.
"Police have informed us that in fact they have not stopped that card renewal exercise but I wish to place it on record that even if police had to stop that, I think that they were going to be guided to allow that process to proceed."
Take a listen:
And Chanda said the move by police to stop the HH prayers, was regrettable as it infringed on people's civil liberties.
"That takes me to the other point of the Cathedral meeting which is being attributed to the ruling party and by insinuation to the government. It is a question of judgment by the police themselves and I suspect, under pressure, in the current circumstances where there is a proclamation of a threatened emergency. There are certain regulations that tell the police what can and cannot be done under those circumstances. But let me place it on record that the action to stop a church meeting, obviously is regretted because even under the environment where there are emergency regulations, I think police are expected to exercise judgment, very good judgment as they try to balance the need for public security on one hand and also the need to ensure that civil liberties of citizens are not infringed upon," Chanda said.
"But we must understand that the police have been under extreme pressure to ensure that, in the light of what has happened in the past, public security is safe guarded. But it is with regret that that happened and I think now I can reveal that positive a intervention was made and the police was overruled by Minister of Religious Affairs and she directed that the church meeting could proceed that same day."
He said State House did not order the police to stop the HH prayers.
"There was no underhand method whatsoever from State House, from government, to encourage the police in that direction. The police have been encouraged to exercise very good judgment as they police the country under the circumstances. More importantly they should ensure that only when circumstances exist where public security or danger to public property would be visible, where you can reasonably assume that that would happen, then they would stop a public procession. I am just happy that on their own they have decided that the card renewal will go ahead but I wanted to state also that the President told me that had they stopped it, then he was going to ask me to speak to the Inspector General to allow that process to go," Chanda said.
"So I am talking about it with the risk of you gentlemen in the media not correcting those who tell falsehoods that we talk to the police heavily, we don't, otherwise I would not be letting them do that and then coming to tell you that the action of the Cathedral is regrettable. I think we must understand that the police work for all of us. We must support them, reduce on activities that make police to be on the defensive."
And Chanda said it was irresponsible for political party representatives to engage with the police command and later on release recordings of the conversations to the media with the aim of embarrassing the law enforcers.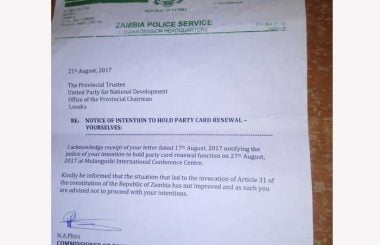 "How are we going to have a sensible conversation with the police service if every phone call they get from either you a journalist, from the UPND political leadership is recorded? Because that process when commissioner Phiri was now engaging with the organisers of the event, it is a privileged conversation, he could even genuinely make mistakes in that conversation but how is he going to feel free the next time you are trying to call him to say 'look, we are seeking an adjustment in this thing?' We must all work towards creating an atmosphere where police feel comfortable to engage the opposition and say 'look, this can go ahead, this cannot go ahead'. But to engage in irresponsible action like that, dedicated only to humiliating and embarrassing the police, you will put them under pressure that they make the kind of decisions they are making. what benefit is there in releasing that conversation so that you just put it out to the public?" Chanda asked.
Chanda said he felt compelled to defend the Patriotic Front on political matters despite being a civil servant, because the President was being attacked in the media.
"These are political matters which I wanted to stay away from but I think that the innuendos in the media directed at State House and government, we needed to talk about them, otherwise I would rather the party secretariat addresses but unfortunately I also represent the leader of the PF so we have got to discuss these matters when the name of the President is unnecessarily called into this," Chanda said.
He further said President Lungu did not summon South Africa's EFF leader Julius Malema and and DA president Mmusi Maimane but merely requested to meet them.
He added that the duo agreed to meet him but later changed their minds.