About twenty-five Nordic companies will from April 11 to 13 join over 20,000 farming professionals at the Agritech Expo to be held in Chisamba.
The Swedish and Finnish ambassadors to Zambia announced this at a joint press briefing, Friday.
Finnish Ambassador Pirjo Suomela-Chowdhury said the Nordic delegation would consist of global technology and industry leaders who would bring their knowledge, solutions and ideas to the Zambian market.
"We are proud to jointly lead an impressive Nordic business delegation of as many as 25 companies in the upcoming Agritech Expo. It is the largest business Expo in Zambia and one of the largest outdoor agriculture expo on the African Continent, bringing a variety of industry sector on display and attracting more than 20, 000 farming
professionals," Ambassador Suomela-Chowdhury said.
"Under the Nordic brand, our pavilion will highlight and showcase Nordic technology and sustainable products and solutions, through exhibitions, meetings and presentations during the three-day expo. The purposes of the companies are to find business partners, discuss with old and new customers, explore investment opportunities and learn more about the Zambian Market."
She said among the companies that would participate in the expo were ABB Volvo Trucks, Epiroc, Noireco and Risutec.
"Food processing companies are looking forward to presenting their expertise in areas such as customized milk cooling technology (The Wedholms Group), food processing equipment (Kometos), and production of fresh milk (Green Dairy). Emerging Cooking Solutions/Supamoto, Savosolar, Nordic Distributed Power and others will provide innovative renewable energy solutions. Finnish Education expertise will also be present at the Expo, with Claned and others, as will Aion Sigma with its financing and credit products. These companies and many others can be found at the Nordic AgriTech Pavilion," said Ambassador Suomela-Chowdhury.
And Swedish Ambassador to Zambia Henrik Cederinnoted that agriculture was becoming an area of focus for investors globally.
"Agriculture is becoming a key area of focus for investors globally. One of the main premises of agritech is the ability to grow more food for a growing population, in a sustainable way. Climate change is and will be a major global challenge for generations to come. Nordic companies are world leaders in innovative solutions and smart save water, energy and soil. They can contribute a great deal to environmentally-sustainable agriculture and business, and can add real value to Zambian efforts in these areas. Agriculture is fundamental to development, and holds massive potential in Africa. I am delighted that we can join forces with Zambia in this area," Ambassador Cederin said.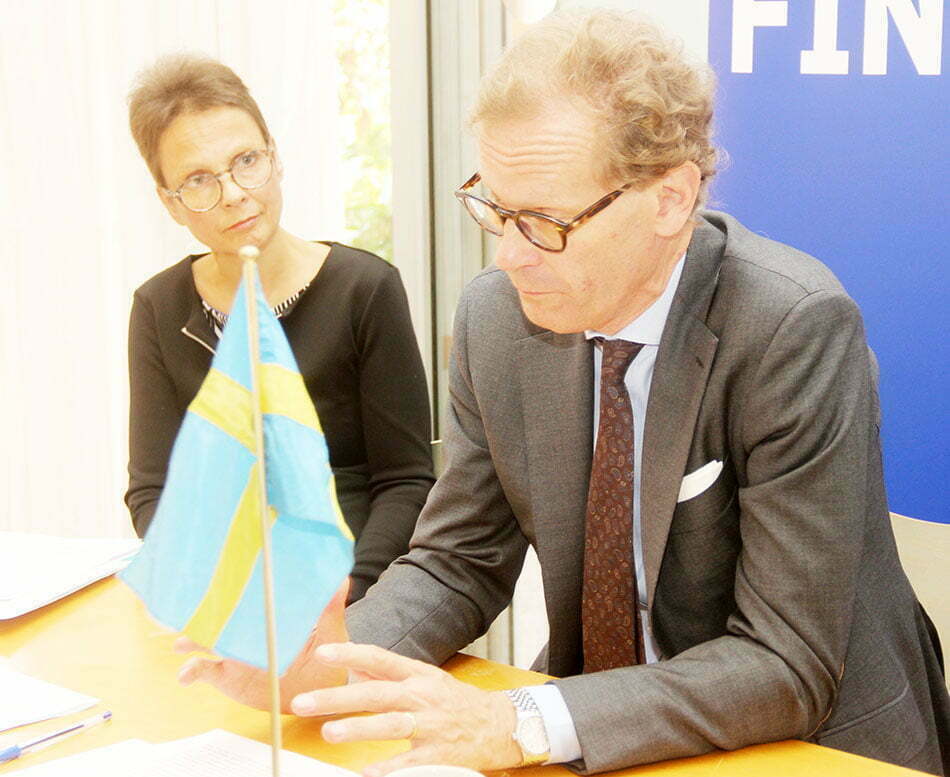 "Many of the Nordic companies in our Nordic pavilion have the possibility to expand and bring their knowledge, solutions and ideas to Zambia. They have a lot of offer to business and sustainable development in this country, with some of the most reliable and high performing components and equipment available on the global market."
He noted that Zambia's relationship with Sweden and Finland was changing over time, with institutional cooperation playing a key role.
"Our relations are changing as our counties change, and we want to broaden and diversify our relations with Zambia. Here trade, commercial interaction and institutional cooperation play a key role. A vibrant private sector has an important role to play in developing the agricultural sector and in promoting environmentally sustainable businesses, jobs and livelihoods. If public and private sectors invest, the sector can strongly contribute to the country's economy and development, as well as help lift the people out of poverty," said Ambassador Cederin.
He said both Finland and Sweden looked forward to further engagement on trade and investment with Zambia.
The Nordic countries comprise of Finland, Sweden, Denmark and Norway.