MINISTRY of Defence Permanent Secretary Sturdy Mwale says he does't need to dig deep into understanding the questionable character of people he is found with, and as such, there was nothing wrong in him taking pictures with Belarusian businessman Alexander Zingman.
And Mwale says he has travelled to Russia more than 15 times, but says he is not obliged to disclose to the public the details of his dealings in that country, as long as he was sent by the government.
Meanwhile, Mwale says anyone who wants to know how he acquired the farms that News Diggers questioned in its editorial opinion, is free to conduct a lifestyle audit on him.
Last week, News Diggers published images of President Edgar Lungu with Zingman, an influential business figure who is said to be a valuable chain in the relations between Zambia and eastern Europe, and is believed to have brokered the procurement deals of helicopters from Russia and the contract for the supply of Sukhoi Superjet 100 aircrafts.
On one of the photographs, the Belarusian businessman is seen holding the shoulders of Lt Gen David Muma and PS Mwale, while controversial Lusaka businessman Valden Findlay and Defence attaché at the Zambian Embassy in Moscow, Lt Gen Robert Kampeshi are looking into the camera.
In an interview, Mwale said there was nothing wrong with leaked photos in which he posed with Belarusian the businessman and it did not matter to him if anyone of his "comrades" were of questionable character.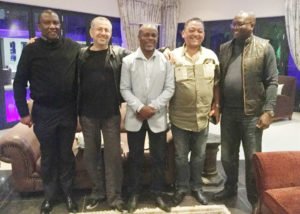 "I can't remember the picture [you're referring to] and sometimes, I don't know when people are taking pictures. To get a picture with somebody, is that a crime? Are you being sincere? So if somebody has a questionable character, I can't take a picture with them? Does it concern you? I know myself; I know my children; the rest are comrades," Mwale said.
"I don't need to dig deeper on who they are, no. I limit myself to the occasion that I am with them, if they are of questionable character, that is not my business so you question them."
Asked to explain his trips to Russia, Mwale said this reporter was too small to question what he goes to do in Moscow, stressing that the government sends him there.
"You don't know that I am a PS? I go on behalf of the government. The government sends me there. I don't report to you so you can't ask what I was doing there, you are too small! How many times have I gone to Moscow? More than 10 to 15 times,"he said.
When reminded that if he uses tax payers money, citizens had the right to know, Mwale said: "[You think] people that sent me don't know that I am using tax payers' money? The government sends me there for work so I don't have to explain to you that, 'I was in Moscow I was doing this, or I am now coming back.' Should I inform the press?"
When asked to confirm if he owned the 700-hectare farm in Mkushi District and another farm next to Nickel Mine near Mazabuka, Mwale said it was not his duty to explain, and expressed displeasure that News Diggers exposed his assets without first calling him to seek his explanation.
"The best you could have done is go to Mkushi and verify the farm. But after you have written you are asking me; what should I answer? When you hear such stories, call me before you write. After you have written, why do you want me to explain? When you write like that, other people are following and at the end of the day, they will know that this paper is all about lies! So, about me owning those farms, people will know, there is a system there. You have exposed that I have these farms; it is not my duty to explain to you," said Mwale.
Meanwhile, Mwale said he was a public figure and people were welcome to conduct a lifestyle audit on him.
"Would you be willing yourself [to be subjected to a lifestyle audit? Everyone's lifestyle is private. I am a public figure; anytime people want to do whatever you call it, they are most welcome," said Mwale.