There was a near stampede at Lusaka's Anglican Cathedral of the Holy Cross as thousands of mourners tried to force themselves into the church during musician David Phiri's funeral service today.
During the fracas, several windows were broken and both inside small gates were removed as mourners tried to enter the church after Phiri's (who was popularly known as Deav) body arrived.
Some family members who were inside the church together with other mourners were seen panicking as Bishop Eddie Mulenga pleaded with some unruly mourners to stop breaking the windows.
After some minutes, Lusaka Province police commissioner Nelson Phiri, in the company of other officers, arrived to to restore order.
Earlier, mourners gathered at the Lusaka Play House where some artists held a farewell concert for Deav.
And speaking during the service, Deav's uncle, Aaron Phiri said the family had lost a pillar.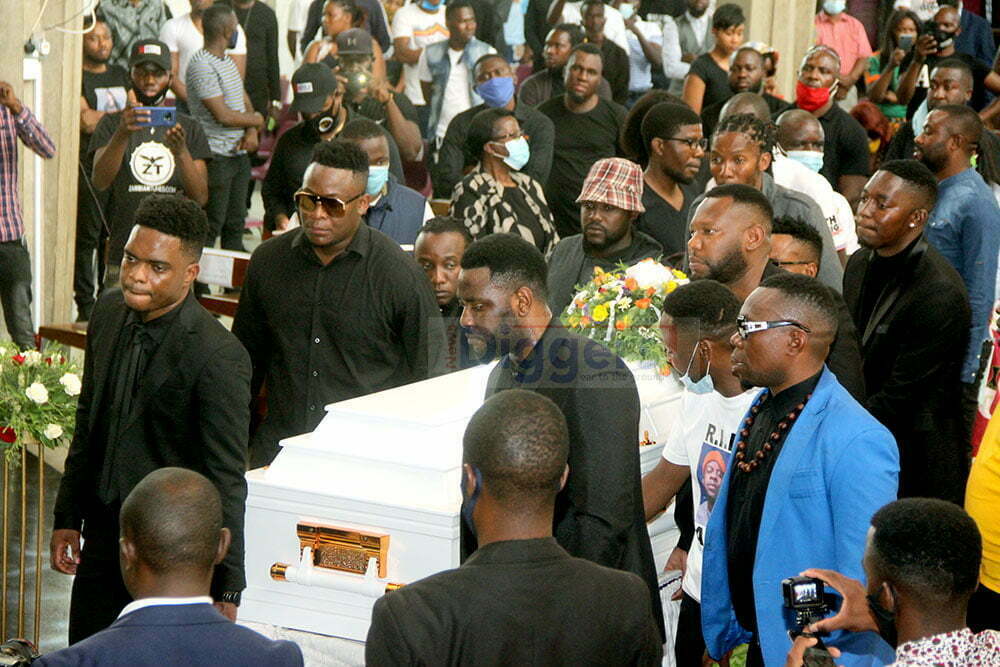 "David was a pillar in the family. A well behaved person and God fearing. As a family, we shall truly miss him and the gap he has left in the family will remain huge," said Aaron.
And Zambian Musicians Association representative Davison Musanya pleaded with government to continue supporting artists in the country.
He said artist played a huge role in the development of the nation.
"We want to ask government to continue supporting the artists in the country because they play a vital role in the development of this nation. David was young but he captured a lot of people lives both young and old. The nation will miss him and as an association, we have lost a great young musician," said Musanya.
David, 25, was the second born in the family of six.
He died in a road accident which claimed four others on the Chirundu – Kafue Road on Sunday.
"Four people have died while one survived with serious injuries in a fatal road traffic accident which occurred today on 27th September, 2020 at around 1400 hours along Chirundu – Kafue road at red paint area. Involved was the driver David Phiri who has been severely burnt and was driving a motor vehicle Toyota Vitz registration number ALJ 7273 from direction of Chirundu to Lusaka with four passengers on board. The other deceased persons have been identified by relatives as Tandiwe Njovu aged 20 years of Lusaka also reported to have been a student at Levy Mwanawasa Hospital, Elton Sakala of Lusaka while the other female victim has not been identified yet. The victim who survived with serious head injuries has been referred to UTH in Lusaka and has not been identified yet," police spokesperson Esther Mwaata Katongo had stated.
The next day, however, the lone survivor also succumbed to his injuries.