WHEN we started writing about the infamous Belarusian businessman Aleksandr Zingman and his association with President Edgar Lungu and Valden Findlay, there was no malice in the questions that we were asking. We were writing and asking questions purely as concerned Zambians. We believe that any well-meaning Zambian who would come across the material we have around this puzzling association would be asking the same questions that News Diggers is asking.
The pictures that we have published today are puzzling and they raise a lot of questions. We have so far published pictures that show that our President had meetings with the Belarusian oligarch, Zingman, on at least four occasions (SO FAR). The question is, what were they discussing? What was the nature of these meetings? Which presidential aides or line ministries were involved in those meetings which the President was having with Mr Zingman and Mr Findlay? These pictures are nothing short of a scandal for our country.
From what we see, the subjects in these pictures seem to be enjoying a very jolly moment. They seem to be having quality time. To us, these pictures do not suggest that the subjects are (business) strangers to one another. In fact, the pictures don't suggest that it was a meeting between a Head of State and two ordinary businessmen; this looks like a moment of merrymaking among pals, close friends, business allies, confidants. It explains why they are not happy to see these pictures in public domain because they know something is wrong about them.
When we first published our findings on the relationship involving our President, Mr Findlay and Mr Zingman, it was the Belarusian businessman who reacted. Mr Zingman reacted by threatening us with a lawsuit through his UK-based lawyers who did everything possible to intimidate us into retracting our story. They further demanded that we disclose the sources of the said photos. We refused to do that. We saw nothing to retract because all that we published was true and a fair analysis of the information that was available to us.
It is surprising that our government officials who were taking pictures with Mr Zingman could not respond until we reached out to the Defence Permanent Secretary Mr Sturdy Mwale who saw nothing wrong. Mr Mwale, who leads the ministry that is responsible for managing our country's defence and security, said it was not his duty to check the character of the people that he interacts and deals with. For his part, Mr Zingman insisted that he is a legitimate businessman doing legitimate agricultural business with the government.
Is this what Mr Zingman and Mr Findlay were discussing in the pictures we have published today with our President? What is Mr Findlay's role in these transactions? What about the President himself? What is he doing in these pictures and what role is he playing in the contract that these businessmen have with the Zambian government? These are legitimate questions that require answers.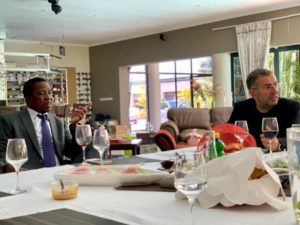 The President claims that he is committed to the fight against corruption. If he is sincere, let him tell the nation what deals his government has been doing with Mr Zingman, and why this particular businessman is so special to warrant such a cosy wining and dining treat. How many government contractors does the President go out with for such drink ups? What qualifies a contractor to be honoured in this way? Is it when you win a government tender?
The questions we are asking have not been answered, and this is why we were not moved when Mr Zingman threatened to sue us. We told him to go ahead and we are still waiting for his court process. We need answers. The questions that we were asking when Mr Zingman threatened to sue us are the same questions that we are asking him now and we would insist to ask the same questions if we appeared before a court of law. And these questions would have to be answered.
These pictures do not give us the confidence that the affairs of our State are being managed properly. There is something very wrong about a president of a country socialising in the manner that President Lungu seems willing to do. It would be interesting to find out what they were celebrating when they were tossing tu wine utwa lekana lekana. We challenge them, if they believe that what they were doing is nothing sinister, to give an explanation to the Zambian people over what was happening in those pictures.
It is worrying that government does not share the concern of the average Zambian on this matter because there is cause for worry here. When President Lungu ascended to the office that he now holds, he ceased to be a private individual who could do whatever he likes. Whether you like him or not, he is the President of Zambia, and as Head of State, he is now accountable to the nation for all his activities. In many ways, President Lungu controls the destiny of the nation. The public resources and public institutions of this country are under his charge. His actions could either mean prosperity for the country or disaster. As citizens of Zambia, we have a duty to scrutinise the President's conduct and even the company that he keeps because it affects us. There is nothing private about the company that he keeps.
We believe very strongly that the President of a country is supposed to be the most accountable public official. This is so because his actions have the potential to affect the largest number of people. This Zingman, Findlay affair and what has been happening at the Ministry of Defence will not go away, someone will have to answer for this, sooner or later. They can ignore our questions today and try to intimidate us, but these questions will have to be answered. It is our opinion that these pictures are telling a story so big, but the question is: what is story? We leave that to the Zambian people; let them judge.