The Auditor General's report has revealed that a Ministry of General Education employee paid himself a total of K2,577,055 in the year ended 2016, for unexplained purposes.
According to the Auditor General, a Bwalya L Phiri used different initials on nine occasions to draw money from a Ministry of General Eduction account, in an attempt to conceal the fraud.
Meanwhile, two of his colleagues also paid themselves K871,272 in similar circumstances.
"During the period under review, amounts totalling K3,488,327 involving twelve (12) transactions were paid to three (3) officers of the Ministry. However, there were no explanations and documentations such as payment vouchers, backing sheets and authorities among others, availed for audit to support the payments as of July 2017. It was also observed that the payments had not been captured in the cash book and IFMIS as of July 2017. As a result, it was not possible to ascertain the activities for which the payments were made," the Auditor General's report read.
"Inquiries revealed that the funds drawn had been misappropriated by the said officers as they were not accounted for at the Ministry. In particular, a payment made on Cheque Number 427659 which was purportedly paid to the
DEBs offices was actually paid to L Bwalya confirmed through the Bank statements. It was noted that in an effort to conceal the fraud, different names and initials (L Bwalya P, L B Phiri, Bwalya Phiri, B Phiri, L Phiri and L Bwalya) of the same payee were used for different transactions."
See tables below: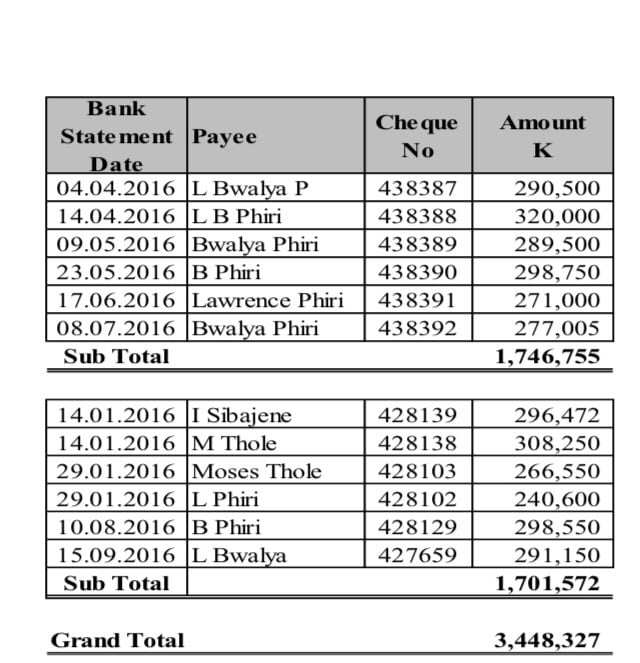 Meanwhile, the Auditor General also revealed that the Ministry of General Education headquarters used K3,420,435 which was meant for Provincial Education Offices, District Education Offices as well as secondary schools.
"In Paragraph 45 (b) of the Auditor General's report on the Accounts for the Republic for the financial year ended 31st December 2015, mention was made of the failure by the Ministry to remit funds in amounts totalling K3,420,435 to lower level institutions. In their Report for the First Session of the Twelfth National Assembly, the Public Accounts Committee expressed concern that the implementation of planned programmes and activities was negatively affected due to the Ministry's failure to remit necessary funds to the institutions in question. The Committee strongly urged the Controlling Officer to ensure that the outstanding balance was remitted as soon as possible and that in future funds for lower level institutions are remitted on time," read the Auditor General's report.
"A review of the situation in 2017 revealed that the situation had not changed in that amounts totalling K3,420,435 had not yet been remitted and funds in amounts totalling K1,164,687 meant to cater for operations at the Provincial Education Offices (PEOs), District Education Board Offices (DEBOs) and Secondary Schools for March and June 2016 had also not been remitted as at 31st August 2017 and the funds had been used at the Ministry headquarters."