Home Affairs Minister Stephen Kampyongo says UPND leader Hakainde Hichilema must stop categorising the current situation in the country as tension because that is irresponsible.
And Kampyongo has announced that police arrested 55 rioters whilst one officer was injured in the process.
Meanwhile, Local Government Minister Vincent Mwale says government will begin reopening markets which meet standards put in place by the multi sectorial team tomorrow.
Briefing the press on the Kanyama riot today, Kampyongo cautioned HH to stop making 'irresponsible' statements on the Cholera epidemic.
He also said he had information that some members of the UPND had released some video footage meant to incite citizens.
"I want to take advantage of this occasion to caution the leader of the United Party for National Development, UPND, Mr Hakainde Hichilema who has been reported to characterise the measures that government has put in place to deal with the current situation as tension in the country. We find this statement irresponsible and we are not going to tolerate that kind of behaviour because we all have a responsibility, those in government and those in the opposition to make sure that we deal with the situation. No one must politicise this matter and make political mileage out of a desperate situation like this," Kampyongo said.
"And that goes to their other members of the party because we are aware that some of the officials of the party have released inflammatory video and audio postings which are meant to incite our people who are very calm. No one is above the law like I have mad it clear here and so we expect everyone in the opposition to follow the regulations that we have set. Anything short of that will be treated as lawlessness and so the UPND who have come rather too late to try and be helpful to the situation will not be allowed to bring downwards efforts that government has put in place and I think Zambians are aware of what their government is doing…it is only government that will find solutions to the situation they are in."
And Kampyongo announced that 14 rioters had been arrested while one officer was injured.
But towards the end of the briefing, the Minister said he had received information that those arrested were actually 55.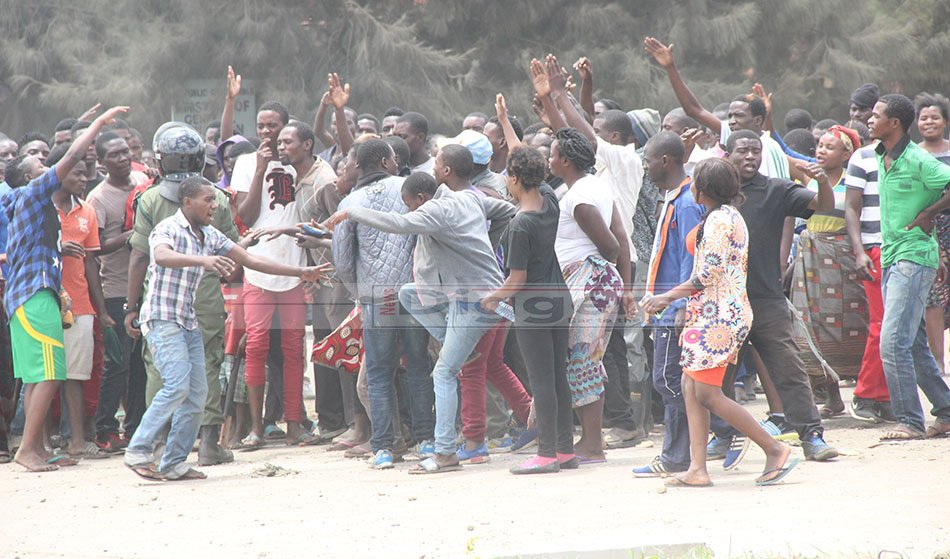 "It's unfortunate that the traders today defied this order and therefore one of the markets that was established, the makeshift market along Los Angeles road in Kanyama, near Petroda Filling Station was being open at awkward hours when our officers were standing down in their operations.it was decided that this market is visited and closed. So this morning, a team of council workers working with Zambia Police Service swung into action to make sure that the makeshift stands were removed. So when these traders came wanting to do their business, they found the market closed and this agitated them and prompted them to start throwing stones at our officers and this culminated into a riot which moved from Kanyama and spread into areas of Chibolya, John laing and Misisi Compound," Kampyongo narrated.
"We made sure that the police command had to reinforce the team that was on the ground and so by about 13:00 hours, Zambia Police were able to bring the situation under control. Unfortunately, during this riot, our police post which is in Chibolya had its window panes broken, a private vehicle parked at this police station was damaged and a tipper truck, which was also parked at Lady Diana School was also set ablaze. One of our officers has been injured in the process and 14 [55] suspects have been apprehended and are in our police custody."
He instructed Inspector General of Police Kakoma Kanganja to send more officers to Kanyama, Chibolya and Missisi Compounds.
"We know that law abiding members of the public have remained calm and we shall make sure that no one goes to disturb their lives because the areas they are dealing with like Chibolya are areas we know have got potential of habouring unscrupulous characters and so our presence on the ground will be doubled and the Inspector General of Police has been instructed to ensure that we have enough manpower on the ground to deal with all those unscrupulous characters who want to take advantage of the situation to break the law," said Kampyongo.
Meanwhile, Mwale said some markets would be reopened tomorrow.
"Beginning tomorrow, we will begin to announce the reopening of some markets. Tomorrow we will reopen some markets that we think have met the standards which have been set by this multi sectorial team…I have a criteria that has been developed that all markets must be able to meet before they reopen and I am glad to say that some of them have actually met this criteria and we may be naming them," said Mwale.
Among the regulations he mentioned were; all markets must have health committees, there must be clean water supply in each and every market, there must be adequate sanitation and government did not expect people to sell anything from the floor.
Other measures were; all markets should have a proper waste management system, no bars or taverns within 100 meters radius of any market and trading must only be done inside the markets.
3077 cases of Cholera have so far been recorded countrywide of which 2927 were recorded in Lusaka.
And the country has recorded 70 deaths from Cholera countrywide, 67 in Lusaka.
Health Minister Dr Chitalu Chilufya said of these Kanyama recorded more than 50 percent.