Police in Lusaka yesterday thwarted a protest march by angry traders who attempted picket President Edgar Lungu at State House, following government's move to ban street vending in town.
Traffic flow along Independence Avenue was drawn to a complete stop as the protesting traders slept in the middle of the High Way in defiance to a police order for them disperse.
On Sunday, Minister of Local Government Vincent Mwale announced that the gutted City Market would be opened to all traders and street vendors for a period of four months while government finds alternative places for them.
But when some of the vendors arrived at City Market, they were chased by those who owned stands in the markets, sparking an instant protest against government.
"We can't trade in City market because the owners have chased us. We went there in the morning, but they chased us with pangas and knives. So we have nowhere to trade from. We wanted to reach State House so that ba President Edgar Lungu can show us were we are going to trade from. We cannot continue like this because hunger will kill us," The angry traders said.
"Imagine, they tell us to go to City market without showing us the stands. How do they expect us to conduct our businesses? This is sad. We now remember ba [Michael] Sata who never used to temper with us vendors. He protected us by allowing us to trade mu ma streets but this government has chased us. How do they think we shall pay for our rentals and send our children to school?"
The vendors vowed to continue protesting saying they were ready to be arrested.
"We shall not stop with this protest. We want the President to address us. We are very ready to be teargased and beaten by these police officers because we are suffering. We have no food at home and we can no longer do our business. Let them kill us if they want," said the vendors who were sitting on the road in protest.
Indeed, an hour later, police arrived in full riot gear to order them out and were forced to use tear smoke to disperse them after noticing resistance.
Police spokesperson Esther Mwaata Katongo said non of the vendors were arrested.
"We had a situation around 08 00 hours where people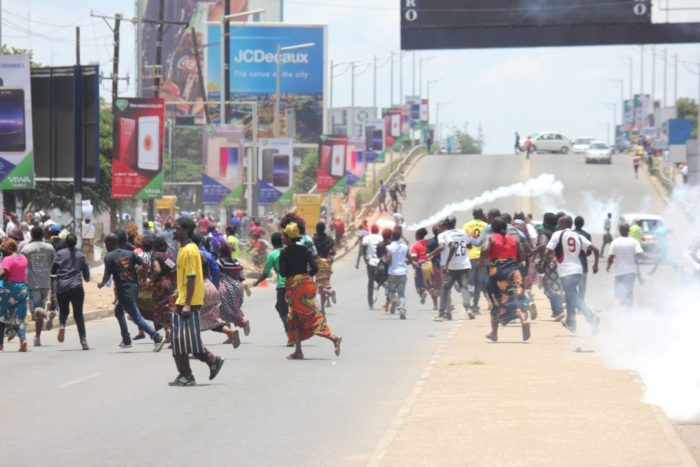 believed to be vendors gathered and were marching with a view to go to State house. Police officers blocked them around Kamwala area on Independence Avenue and were addressed by officials from the local authority, and they dispersed peacefully."
"They later regrouped around 12:00 hours and marched again with intentions of going to Cabinet office, they were blocked again by police officers who advised them to disperse but could not take heed. That was when officers discharged tear smoke to disperse them"