President Edgar Lungu today officiated that the National Field Day organized by NWK Agri-services in Sinazongwe where he applauded the 50 ngwee increase in cotton prices.
Addressing traditional leaders, Cabinet Ministers and local farmers among other stakeholders, President Lungu said he was confident that the cotton price increase would spur more people to grow the cash crop.
"I am happy in this respect to inform this gathering that North-west cooperatives NWK Agri-services has confirmed that they will offer farmers a fair price of K3.70 per kg this year compared to last year's price of K3.20 last year. This I must say is a commendable gesture," President Lungu said.
"I am confident that more farmers venture into cotton growing among other crops this coming season in line with the diversification program we have embarked upon."
He said it was unfortunate that Zambia was exporting most of the cotton it produced instead of setting up local textile industries.
"I am aware that most of the cotton which is produced in the country is exported. This must not be allowed to continue. In this vain, I am directing the Minister of Commerce, Trade and Industry, the Ministers of Finance and Agriculture to work closely to explore ways of setting up local textile means. This is important in the creation of jobs and also in retention of our foreign exchange. Obviously, we are inviting the private sector to work with us on this issue." President Lungu said.
"I also wish to implore cotton ginners in the country to ensure that they pay farmers a fair price for their crops. Let me assure the Zambian people through your royal highnesses that the PF government will follow closely developments in the cotton industry because of the potential to immensely contribute to the growth of the economy of our country."
And President Lungu called for the private sector to partner with government deliver services to the people.
"This government believes that through partnership with the private sector, we can do much more than we have done in the past. I therefore call upon other private investors to partner with the government to deliver service to the people of Zambia," President Lungu said .
Meanwhile, President Lungu said government would allow monitored export of maize.
"The private sector has expressed deep concern about Government's ban on Maize grain exports. They argue that the ban could inhibit their full participation in grain marketing this year. The worry is that substantial maize surplus may spill over into the new season. As a compromise, my government will allow monitored export of Maize grain this season to ensure the country is not depleted of the commodity, President Lungu said.
Earlier President Lungu paid a courtesy call on chief Sinazongwe at his Maliko palace.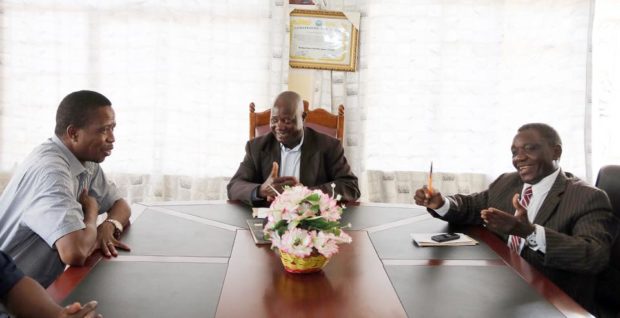 And senior chief Mweemba, who was also present at the same event, told President Lungu to stay strong and not be discouraged by anything.
"Don't be discouraged when you hear this and that. We are prepared to work with you and receive you. If I have a Bible, I would have given it to you now so that you have it. You have worked the whole Zambia and anyone who went to school can believe that this is a hard working President. You are a hard working President and I am not just praising you but what I have seen with my naked eyes on TV, I say thank you," said snr chief Mweemba.