President Edgar Lungu has expressed concern over the increased number of roads and bridges which are being washed away as a result of shoddy works.
And President Lungu says engineers must up their game by ensuring that infrastructure is sustainable by taking into consideration factors like climate change.
Speaking when he officiated at a Housing and Infrastructure symposium at Mulungushi International Conference Centre today, President Lungu said it was saddening that the country had taken a casual approach to the kind of infrastructure that had been set up.
"News headlines of damage caused to our infrastructure by heavy rains or climate related causes are still fresh in our minds. This country has lost bridges, roads, schools and houses and in some unfortunate incidences, lives have also been lost in the vagaries of weather. It is saddening to note that we have taken a casual approach to the kind of infrastructure that we have been putting up and are even comfortable sometimes to say that the rains were heavy and caused a trail of damage on our roads, bridges and so on; casually, this should not be allowed to continue," President Lungu said.
"I expect that from this symposium, our approach should immediately change. I have been across the country and I have seen some or the infrastructure we have built for ourselves, it leaves much to be desired."
And President Lungu asked engineers to up their game in making infrastructure sustainable.
"Our engineers should up their game by ensuring that at planning and designing stage, they seriously take into consideration all factors which will make our infrastructure sustainable. Otherwise we will continue wasting colossal sums of money on poor infrastructure and that will mean there will be no prosperity for us. Let us not embrace mediocrity and make it our way of life," he said.
"To attain a smart and resilient infrastructure calls for drastic change in the way we have been doing things and we need to adopt a smart and sustainable way of doing things. To you, our technocrats, time has come for you to find creative and innovative strategies and embrace technologies that will enable us to put in place infrastructure that will enable us to understand the climate change effects. In today's world, we cannot be pursuing housing and infrastructure development without taking into account issues of sustainable environmental management and impacts of climate change."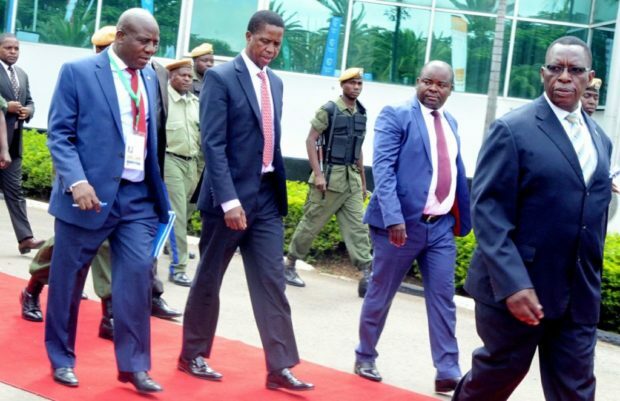 President Lungu noted the importance of the private sector in infrastructure development.
"I wish to assure you of the PF government's determination to deal with these challenges and for this reason, let me underscore the need for this year's theme which is 'Towards Smart and Resilient Infrastructure' to be embraced and embedded in all infrastructure and development programmes. I cannot over emphasise the role of the private sector in our pursuit of sustainable housing and infrastructure. The participation of the private sector at this year's symposium is testimony of this sector's desire to partner with government to resolve some, if not all of the complex national challenges that confront us from time to time," said President Lungu.
"I wish to commend the Ministry of Housing and infrastructure and all institutions, both public and private, that have partnered with the ministry to host this important symposium."
After his address, the Head of State toured some stands and he was impressed by the exhibitions (see video below).